Saprophytic Bacillus Accelerates the Release of Effective Components in Agarwood by Degrading Cellulose
Cited by 1
| Viewed by 566
Abstract
The value of Agarwood increases with time due to the gradual release of its major components, but the mechanism behind this remains unclear. Herein we reveal that the potential driving force of this process is the degradation of cellulose in Agarwood by its
[...] Read more.
The value of Agarwood increases with time due to the gradual release of its major components, but the mechanism behind this remains unclear. Herein we reveal that the potential driving force of this process is the degradation of cellulose in Agarwood by its saprophytic
Bacillus
subtilis
. We selected 10-year-old Agarwood from different places and then isolated the saprophytic bacteria. We confirmed these bacteria from different sources are all
Bacillus
and confirmed they can degrade cellulose, and the highest cellulase activity reached 0.22 U/mL. By co-cultivation of the bacterium and Agarwood powder, we found that three of the strains could release the effective components of Agarwood, while they had little effect in increasing the same components in living
Aquilaria sinensis
. Finally, we demonstrated that these saprophytic
Bacillus
subtilis
have similar effects on
Zanthoxylum bungeanum
Maxim and
Dalbergiaod orifera
T. Chen, but not on
Illicium verum
Hook. f,
Cinnamomum cassia
Presl and
Phellodendron chinense
Schneid. In conclusion, our experiment revealed that the saprophytic
Bacillus
release the effective components of Agarwood by degrading cellulose, and we provide a promising way to accelerate this process by using this bacterial agent.
Full article
►

▼

Show Figures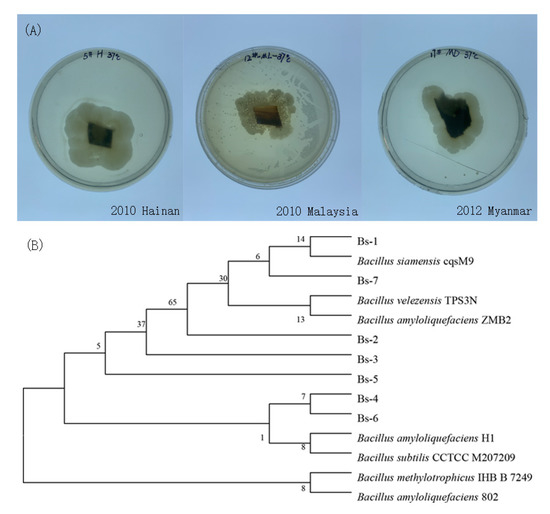 Figure 1