Identification for the First Time of Cyclo(d-Pro-l-Leu) Produced by
Bacillus amyloliquefaciens

Y1 as a Nematocide for Control of

Meloidogyne incognita

1

Division of Food Technology, Biotechnology and Agro chemistry, Institute of Environmentally-Friendly Agriculture, Chonnam National University, Gwangju 61186, Korea

2

Department of Food Science and Technology, and Functional Food Research Center, Chonnam National University, Gwangju 61186, Korea

3

Department of Food Science and Technology, BK21 Plus Program, Chonnam National University, Gwangju 61186, Korea

4

Faculty of Plant Protection, Yunnan Agricultural University, Kunming 650201, Yunnan, China

5

Department of Microbiology, Kohat University of Science and Technology, Kohat 26000, Pakistan

*

Author to whom correspondence should be addressed.

Received: 23 September 2017 / Revised: 19 October 2017 / Accepted: 21 October 2017 / Published: 27 October 2017
Abstract
The aim of the current study was to describe the role and mechanism of
Bacillus amyloliquefaciens
Y1 against the root-knot nematode, Meloidogyne incognita, under in vitro and in vivo conditions. Initially, the exposure of the bacterial culture supernatant and crude extract of Y1 to
M. incognita
significantly inhibited the hatching of eggs and caused the mortality of second-stage juveniles (J2), with these inhibitory effects depending on the length of incubation time and concentration of the treatment. The dipeptide cyclo(
d
-Pro-l-Leu) was identified in
B. amyloliquefaciens
culture for the first time using chromatographic techniques and nuclear magnetic resonance (NMR
1
H,
13
C, H-H COSY, HSQC, and HMBC) and recognized to have nematocidal activity. Various concentrations of cyclo(
d
-Pro-l-Leu) were investigated for their effect on the hatching of eggs and J2 mortality. Moreover, the in vivo nematocidal activity of the Y1 strain was investigated by conducting pot experiments in which tomato plants were inoculated with
M. incognita.
Each and every pot was amended 50 mL of fertilizer media (F), or Y1 culture, or nematicide (N) (only once), or fertilizer media with N (FN) at 1, 2, 3, 4 and 5 weeks after transplantation. The results of the pot experiments demonstrated the antagonistic effect of
B. amyloliquefaciens
Y1 against
M. incognita
as it significantly decreases the count of eggs and galls per root of the tomato plant as well as the population of J2 in the soil. Besides, the investigation into the growth parameters, such as the length of shoot, shoot fresh and dry weights of the tomato plants, showed that they were significantly higher in the Y1 strain Y1-treated plants compared to F-, FN- and N-treated plants. Therefore, the biocontrol repertoire of this bacterium opens a new insight into the applications in crop pest control.
View Full-Text
►

▼

Figures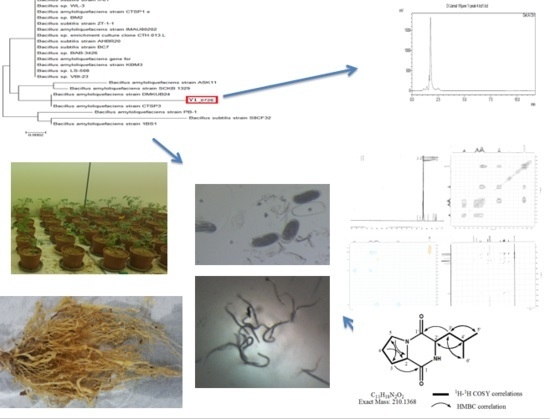 Graphical abstract
This is an open access article distributed under the
Creative Commons Attribution License
which permits unrestricted use, distribution, and reproduction in any medium, provided the original work is properly cited (CC BY 4.0).

Share & Cite This Article
MDPI and ACS Style
Jamal, Q.; Cho, J.-Y.; Moon, J.-H.; Munir, S.; Anees, M.; Kim, K.Y. Identification for the First Time of Cyclo(d-Pro-l-Leu) Produced by Bacillus amyloliquefaciens Y1 as a Nematocide for Control of Meloidogyne incognita. Molecules 2017, 22, 1839.
Note that from the first issue of 2016, MDPI journals use article numbers instead of page numbers. See further details here.
Related Articles
Comments
[Return to top]