Quality Control of Gamma Irradiated Dwarf Mallow (
Malva neglecta

Wallr.) Based on Color, Organic Acids, Total Phenolics and Antioxidant Parameters

1

Mountain Research Centre (CIMO), ESA, Polytechnic Institute of Bragança, Campus de Santa Apolónia, 1172, 5300-253 Bragança, Portugal

2

REQUIMTE/LAQV, Faculty of Pharmacy, University of Porto, Rua Jorge Viterbo Ferreira, no. 228, 4050-313 Porto, Portugal

3

Centro de Ciências e Tecnologias Nucleares (C2TN), Instituto Superior Técnico, Universidade de Lisboa, E.N. 10, 2695-066 Bobadela, Portugal

*

Author to whom correspondence should be addressed.

Academic Editor: Derek J. McPhee

Received: 7 March 2016 / Revised: 31 March 2016 / Accepted: 7 April 2016 / Published: 8 April 2016
Abstract
This study addresses the effects of gamma irradiation (1, 5 and 8 kGy) on color, organic acids, total phenolics, total flavonoids, and antioxidant activity of dwarf mallow (
Malva neglecta
Wallr.). Organic acids were analyzed by ultra fast liquid chromatography (UFLC) coupled to a photodiode array (PDA) detector. Total phenolics and flavonoids were measured by the Folin-Ciocalteu and aluminium chloride colorimetric methods, respectively. The antioxidant activity was evaluated based on the DPPH
•
scavenging activity, reducing power, β-carotene bleaching inhibition and thiobarbituric acid reactive substances (TBARS) formation inhibition. Analyses were performed in the non-irradiated and irradiated plant material, as well as in decoctions obtained from the same samples. The total amounts of organic acids and phenolics recorded in decocted extracts were always higher than those found in the plant material or hydromethanolic extracts, respectively. The DPPH
•
scavenging activity and reducing power were also higher in decocted extracts. The assayed irradiation doses affected differently the organic acids profile. The levels of total phenolics and flavonoids were lower in the hydromethanolic extracts prepared from samples irradiated at 1 kGy (dose that induced color changes) and in decocted extracts prepared from those irradiated at 8 kGy. The last samples also showed a lower antioxidant activity. In turn, irradiation at 5 kGy favored the amounts of total phenolics and flavonoids. Overall, this study contributes to the understanding of the effects of irradiation in indicators of dwarf mallow quality, and highlighted the decoctions for its antioxidant properties.
View Full-Text
►

▼

Figures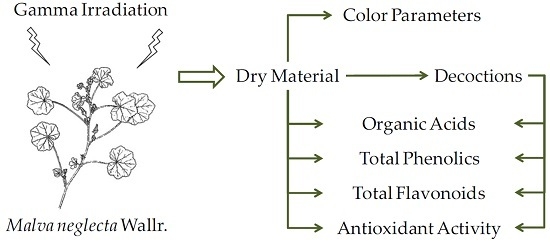 Graphical abstract
This is an open access article distributed under the
Creative Commons Attribution License
which permits unrestricted use, distribution, and reproduction in any medium, provided the original work is properly cited (CC BY 4.0).

Share & Cite This Article
MDPI and ACS Style
Pinela, J.; Barros, L.; Antonio, A.L.; Carvalho, A.M.; Oliveira, M.B.P.P.; Ferreira, I.C.F.R. Quality Control of Gamma Irradiated Dwarf Mallow (Malva neglecta Wallr.) Based on Color, Organic Acids, Total Phenolics and Antioxidant Parameters. Molecules 2016, 21, 467.
Note that from the first issue of 2016, MDPI journals use article numbers instead of page numbers. See further details here.
Related Articles
Comments
[Return to top]