Antioxidant Properties of Essential Oil Extracted from
Pinus morrisonicola

Hay Needles by Supercritical Fluid and Identification of Possible Active Compounds by GC/MS

1

Department of Health Food, Chung Chou University of Science and Technology, Changhua 51591, Taiwan

2

Department of Bioindustry Technology, Dayeh University, Changhua 51591, Taiwan

*

Author to whom correspondence should be addressed.

Academic Editor: Maurizio Battino

Received: 11 August 2015 / Revised: 11 October 2015 / Accepted: 15 October 2015 / Published: 20 October 2015
Abstract
Pine (
Pinus morrisonicola
Hay, PM) needles have been used as folk medicine for their antihypertension and lipid-lowering effects. As supercritical fluid extraction (SFE) is considered an ideal technique for the extraction of essential oil from plant materials, the present work investigated the optimal SFE conditions and the protective effects of different resulting fractions of PM needles on lipid peroxidation and foam cell production in macrophages. Nine PM needle extracts (PME1–9) were obtained in 1%–4% yields using different SFE conditions, of which PME1 had the lowest yield (1.1%) and PME3 the highest (3.9%). PME3 exhibited lower cytotoxic effects and stronger inhibition of lipid peroxidation and formation of foam cell in RAW 264.7 macrophages than those of other PME extracts. PME3-1 purified from PME3 by column and thin layer chromatography inhibited LDL oxidation more effectively than did PME3 in a cell-free system oxidized by Cu
2+
. PME3-1 dose-dependently (25–100 μg/mL) decreased conjugated diene levels and foam cell formation induced by ox-LDL. GC/MS analyses revealed that 1-docosene, neophytadiene, and methyl abietate were increased 5.2-, 1.7- and 4.3-fold in PME3-1 relative to PME3. A new hydrocarbon compound, cedrane-8,13-diol, was identified in PME3-1. Overall, the present study demonstrates the optimal extraction conditions of SFE of PM and identifies the most potent antioxidant fractions and possible active compounds in PM.
View Full-Text
►

▼

Figures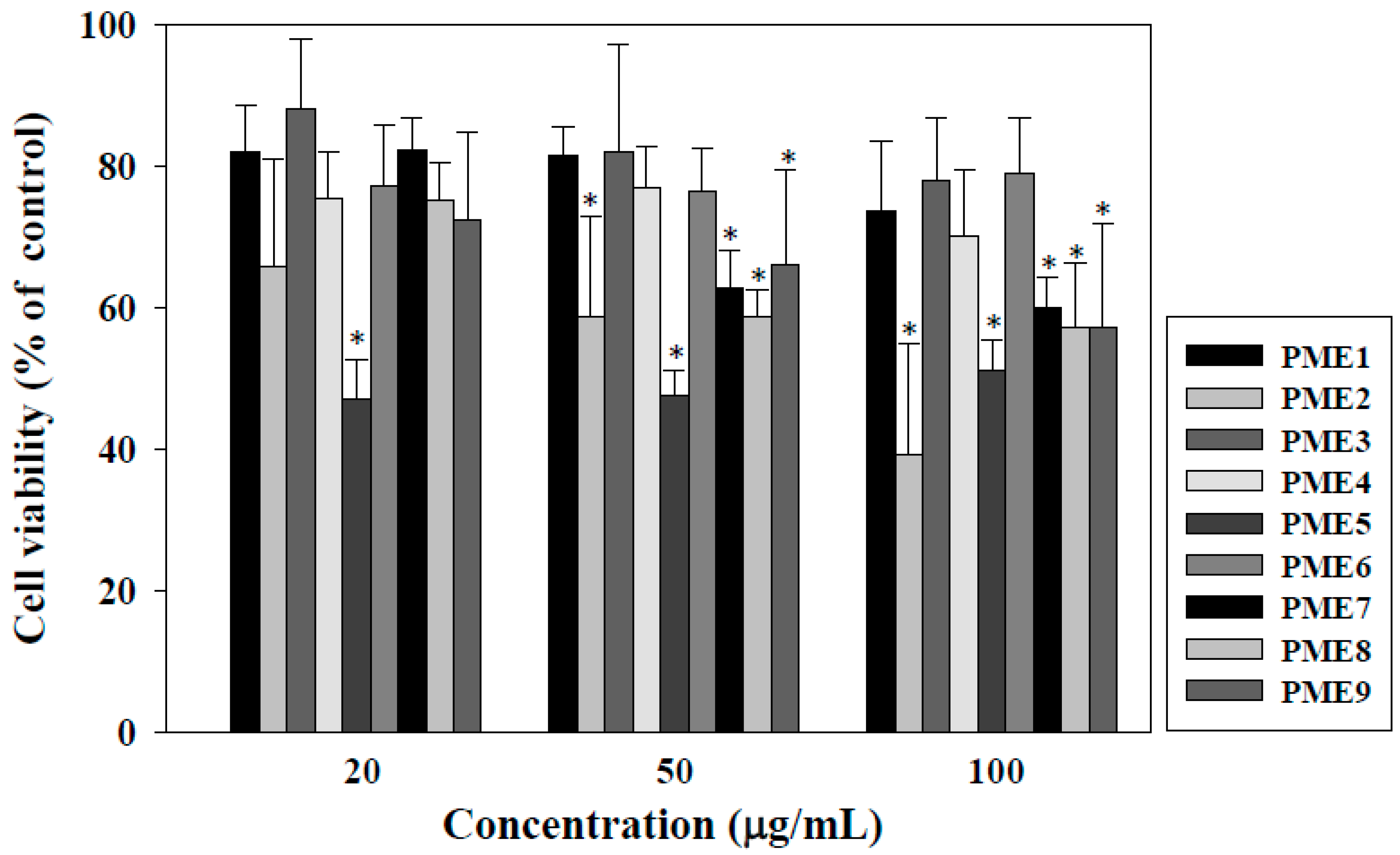 Figure 1
This is an open access article distributed under the
Creative Commons Attribution License
which permits unrestricted use, distribution, and reproduction in any medium, provided the original work is properly cited (CC BY 4.0).

Share & Cite This Article
MDPI and ACS Style
Cheng, M.-C.; Chang, W.-H.; Chen, C.-W.; Li, W.-W.; Tseng, C.-Y.; Song, T.-Y. Antioxidant Properties of Essential Oil Extracted from Pinus morrisonicola Hay Needles by Supercritical Fluid and Identification of Possible Active Compounds by GC/MS. Molecules 2015, 20, 19051-19065.
Related Articles
Comments
[Return to top]