Flavonoid Composition and Antitumor Activity of Bee Bread Collected in Northeast Portugal
1
Mountain Research Centre (CIMO), ESA, Polytechnic Institute of Bragança, Campus de Santa Apolónia, 1172, 5300-253 Bragança, Portugal
2
Laboratory of Separation and Reaction Engineering—Laboratory of Catalysis and Materials (LSRE-LCM), Polytechnic Institute of Bragança, Campus de Santa Apolónia, 1134, 5301-857 Bragança, Portugal
3
Grupo de Investigación en Polifenoles (GIP-USAL), Facultad de Farmacia, Universidad de Salamanca, Campus Miguel de Unamuno s/n, 37007 Salamanca, Spain
*
Authors to whom correspondence should be addressed.
Academic Editor: Derek J. McPhee
Received: 1 January 2017 / Revised: 24 January 2017 / Accepted: 3 February 2017 / Published: 7 February 2017
Abstract
Bee bread (BB) is a fermented mixture of plant pollen, honey, and bee saliva that worker bees use as food for larvae, and for young bees to produce royal jelly. In the present study, five BB samples, collected from
Apis mellifera iberiensis
hives located in different apiaries near Bragança, in the northeast region of Portugal, and one BB commercial sample were characterized by high-performance liquid chromatography coupled to a diode array detector and electrospray mass spectrometry (HPLC-DAD-ESI/MS) in terms of phenolic compounds, such as flavonoid glycoside derivatives. Furthermore, the samples were screened, using in vitro assays, against different human tumor cell lines, MCF-7 (breast adenocarcinoma), NCI-H460 (non-small cell lung cancer), HeLa (cervical carcinoma) and HepG2 (hepatocellular carcinoma), and also against non-tumor liver cells (porcine liver cells, PLP2). The main phenolic compounds found were flavonol derivatives, mainly quercetin, kaempferol, myricetin, isorhamnetin and herbacetrin glycoside derivatives. Thirty-two compounds were identified in the six BB samples, presenting BB1 and BB3 with the highest contents (6802 and 6480 µg/g extract, respectively) and the highest number of identified compounds. Two isorhamnetin glycoside derivatives, isrohamnetin-
O
-hexosyl-
O
-rutinoside and isorhamnetin-
O
-pentosyl-hexoside, were the most abundant compounds present in BB1; on the other hand, quercetin-3-
O
-rhamnoside was the most abundant flavonol in BB3. However, it was not possible to establish a correlation between the flavonoids and the observed low to moderate cytotoxicity (ranging from >400 to 68 µg/mL), in which HeLa and NCI-H460 cell lines were the most susceptible to the inhibition. To the authors' knowledge, this is the first report characterizing glycosidic flavonoids in BB samples, contributing to the chemical knowledge of this less explored bee product.
View Full-Text
►

▼

Figures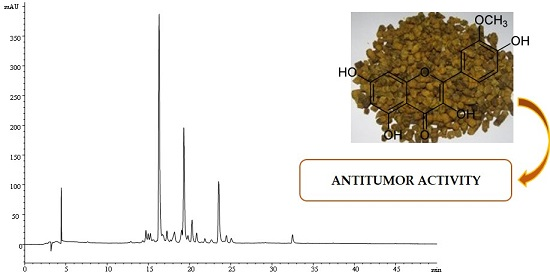 Graphical abstract
This is an open access article distributed under the
Creative Commons Attribution License
which permits unrestricted use, distribution, and reproduction in any medium, provided the original work is properly cited (CC BY 4.0).

Share & Cite This Article
MDPI and ACS Style
Sobral, F.; Calhelha, R.C.; Barros, L.; Dueñas, M.; Tomás, A.; Santos-Buelga, C.; Vilas-Boas, M.; Ferreira, I.C.F.R. Flavonoid Composition and Antitumor Activity of Bee Bread Collected in Northeast Portugal. Molecules 2017, 22, 248.
Note that from the first issue of 2016, MDPI journals use article numbers instead of page numbers. See further details here.
Related Articles
Comments
[Return to top]