Development of a Calcium Phosphate Nanocomposite for Fast Fluorogenic Detection of Bacteria
1
Centro Nacional de Biopreparados, Carretera a Beltrán Km 1 1/2, Bejucal, Mayabeque, Apartado 6048, Cuba
2
Restorative Dentistry Department, Faculty of Dentistry, Universidade Federal de Minas Gerais, Av. Antônio Carlos 6627, CEP 31270-901 Belo Horizonte, MG, Brazil
3
Chemistry Department, ICEx, Universidade Federal de Minas Gerais, Av. Antônio Carlos 6627, CEP 31270-901 Belo Horizonte, MG, Brazil
*
Author to whom correspondence should be addressed.
Received: 30 April 2014 / Revised: 30 June 2014 / Accepted: 2 July 2014 / Published: 5 September 2014
Abstract
Current procedures for the detection and identification of bacterial infections are laborious, time-consuming, and require a high workload and well-equipped laboratories. Therefore the work presented herein developed a simple, fast, and low cost method for bacterial detection based on hydroxyapatite nanoparticles with a nutritive mixture and the fluorogenic substrate. Calcium phosphate ceramic nanoparticles were characterized and integrated with a nutritive mixture for the early detection of bacteria by visual as well as fluorescence spectroscopy techniques. The composite was obtained by combining calcium phosphate nanoparticles (Ca:P ratio, 1.33:1) with a nutritive mixture of protein hydrolysates and carbon sources, which promote fast bacterial multiplication, and the fluorogenic substrate 4-methylumbellipheryl-β-d-glucuronide (MUG). The composite had an average particle size of 173.2 nm and did not show antibacterial activity against Gram-negative or Gram-positive bacteria. After an
Escherichia coli
suspension was in contact with the composite for 60–90 min, fluorescence detected under UV light or by fluorescence spectrophotometer indicated the presence of bacteria. Intense fluorescence was observed after incubation for a maximum of 90 min. Thus, this calcium phosphate nanocomposite system may be useful as a model for the development of other nanoparticle composites for detection of early bacterial adhesion.
View Full-Text
►

▼

Figures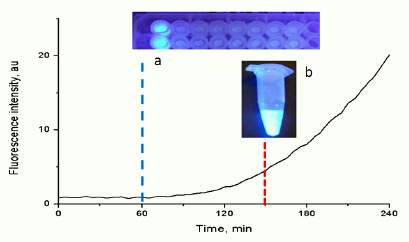 Graphical abstract

Share & Cite This Article
MDPI and ACS Style
Martínez, C.R.; Rodríguez, T.L.; Zhurbenko, R.; Valdés, I.A.; Gontijo, S.M.L.; Gomes, A.D.M.; Suarez, D.F.; Sinisterra, R.D.; Cortés, M.E. Development of a Calcium Phosphate Nanocomposite for Fast Fluorogenic Detection of Bacteria. Molecules 2014, 19, 13948-13964.
Related Articles
Comments
[Return to top]