Crystal Structures and Cytotoxicity of
ent

-Kaurane-Type Diterpenoids from Two

Aspilia

Species

1

Department of Chemistry, University of Nairobi, P. O. Box 30197, 00100 Nairobi, Kenya

2

Department of Chemistry, University of Jyvaskyla, P.O. Box 35, 40014 Jyvaskyla, Finland

3

State Key Laboratory of Quality Research in Chinese Medicine/Macau Institute for Applied Research in Medicine and Health, Macau University of Science and Technology, Macau 999078, China

4

Department of Pharmacology and Pharmacognosy, School of Pharmacy, University of Nairobi, P. O. Box 19676, 00202 Nairobi, Kenya

5

Department of Chemistry–BMC, Uppsala University, Husargatan 3, 75237 Uppsala, Sweden

6

The Swedish NMR Centre, Medicinaregatan 5, 40530 Gothenburg, Sweden

7

Department of Chemistry and Molecular Biology, University of Gothenburg, 40530 Gothenburg, Sweden

*

Authors to whom correspondence should be addressed.

Academic Editors: Isabel C.F.R. Ferreira and Nancy D. Turner

Received: 11 November 2018 / Revised: 26 November 2018 / Accepted: 30 November 2018 / Published: 4 December 2018
Abstract
A phytochemical investigation of the roots of
Aspilia pluriseta
led to the isolation of
ent
-kaurane-type diterpenoids and additional phytochemicals (
1
–
23
). The structures of the isolated compounds were elucidated based on Nuclear Magnetic Resonance (NMR) spectroscopic and mass spectrometric analyses. The absolute configurations of seven of the
ent
-kaurane-type diterpenoids (
3
–
6
,
6b, 7
and
8
) were determined by single crystal X-ray diffraction studies. Eleven of the compounds were also isolated from the roots and the aerial parts of
Aspilia mossambicensis
. The literature NMR assignments for compounds
1
and
5
were revised. In a cytotoxicity assay, 12α-methoxy-
ent
-kaur-9(11),16-dien-19-oic acid (
1
) (IC
50
= 27.3 ± 1.9 µM) and 9β-hydroxy-15α-angeloyloxy-
ent
-kaur-16-en-19-oic acid (
3
) (IC
50
= 24.7 ± 2.8 µM) were the most cytotoxic against the hepatocellular carcinoma (Hep-G2) cell line, while 15α-angeloyloxy-16β,17-epoxy-
ent
-kauran-19-oic acid (
5
) (IC
50
= 30.7 ± 1.7 µM) was the most cytotoxic against adenocarcinomic human alveolar basal epithelial (A549) cells.
View Full-Text
►

▼

Figures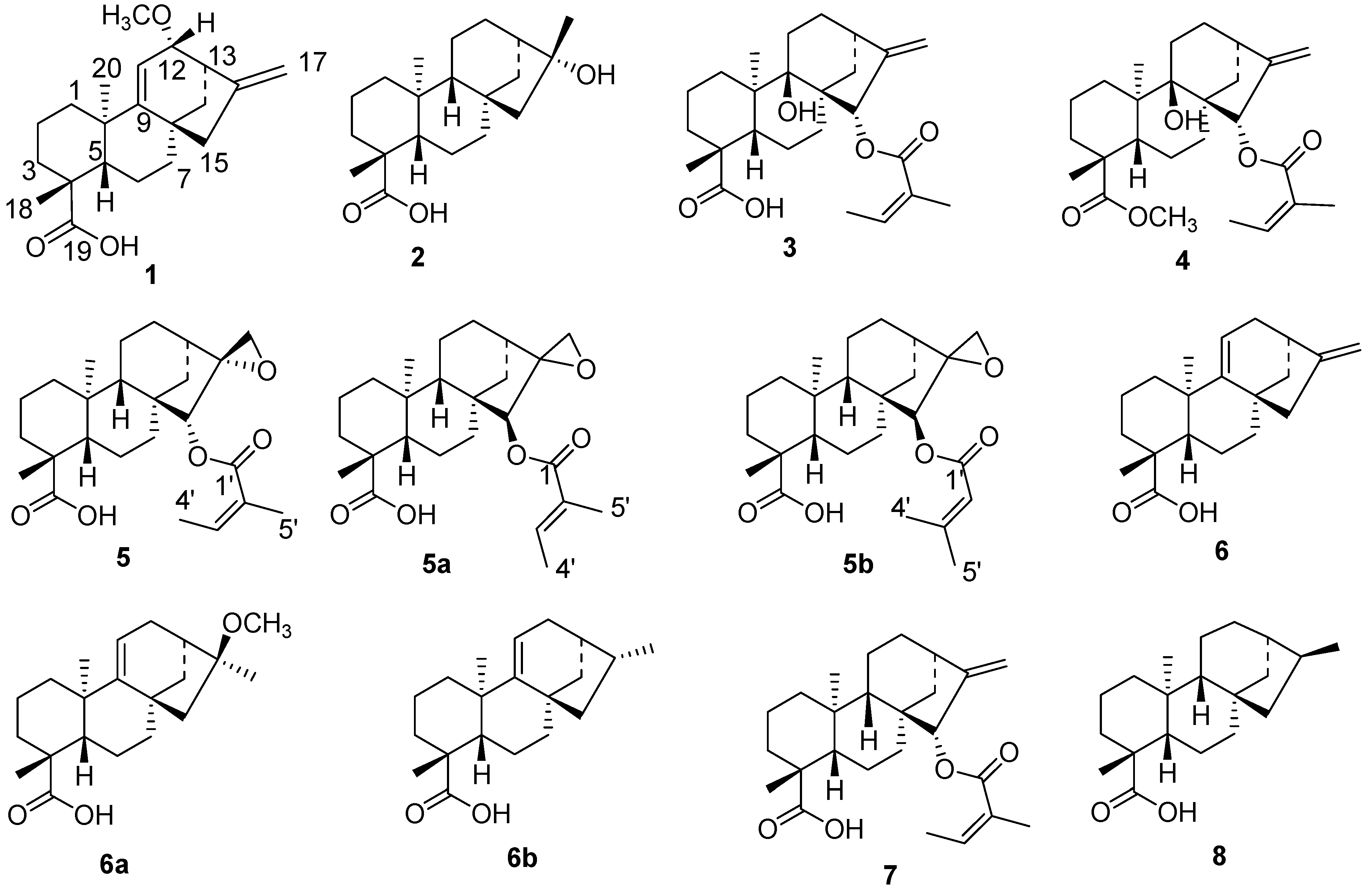 Figure 1
This is an open access article distributed under the
Creative Commons Attribution License
which permits unrestricted use, distribution, and reproduction in any medium, provided the original work is properly cited (CC BY 4.0).

Share & Cite This Article
MDPI and ACS Style
Yaouba, S.; Valkonen, A.; Coghi, P.; Gao, J.; Guantai, E.M.; Derese, S.; Wong, V.K.W.; Erdélyi, M.; Yenesew, A. Crystal Structures and Cytotoxicity of ent-Kaurane-Type Diterpenoids from Two Aspilia Species. Molecules 2018, 23, 3199.
Note that from the first issue of 2016, MDPI journals use article numbers instead of page numbers. See further details here.
Related Articles
Comments
[Return to top]