Optimization of Microwave-Assisted Extraction Conditions for Five Major Bioactive Compounds from Flos Sophorae Immaturus (Cultivars of
Sophora japonica

L.) Using Response Surface Methodology

1

Institute of Material Medical Planting, Chongqing Academy of Chinese Materia Medica (Chongqing Engineering Research Center for Fine Variety Breeding Techniques of Chinese Materia Medica, Chongqing Key Laboratory of Chinese Medicine Resources), Chongqing Sub-Center of National Resource Center for Chinese Materia Medica, China Academy of Chinese Medical Science, Chongqing 400065, China

2

College of Agronomy and Biotechnology, Southwest University, Chongqing 400715, China

*

Authors to whom correspondence should be addressed.

Academic Editors: Isabel C. F. R. Ferreira and Derek J. McPhee

Received: 14 December 2015 / Revised: 22 February 2016 / Accepted: 23 February 2016 / Published: 2 March 2016
Abstract
Microwave-assisted extraction was applied to extract rutin; quercetin; genistein; kaempferol; and isorhamnetin from Flos Sophorae Immaturus. Six independent variables; namely; solvent type; particle size; extraction frequency; liquid-to-solid ratio; microwave power; and extraction time were examined. Response surface methodology using a central composite design was employed to optimize experimental conditions (liquid-to-solid ratio; microwave power; and extraction time) based on the results of single factor tests to extract the five major components in Flos Sophorae Immaturus. Experimental data were fitted to a second-order polynomial equation using multiple regression analysis. Data were also analyzed using appropriate statistical methods. Optimal extraction conditions were as follows: extraction solvent; 100% methanol; particle size; 100 mesh; extraction frequency; 1; liquid-to-solid ratio; 50:1; microwave power; 287 W; and extraction time; 80 s. A rapid and sensitive ultra-high performance liquid chromatography method coupled with electrospray ionization quadrupole time-of-flight tandem mass spectrometry (EIS-Q-TOF MS/MS) was developed and validated for the simultaneous determination of rutin; quercetin; genistein; kaempferol; and isorhamnetin in Flos Sophorae Immaturus. Chromatographic separation was accomplished on a Kinetex C
18
column (100 mm × 2.1 mm; 2.6 μm) at 40 °C within 5 min. The mobile phase consisted of 0.1% aqueous formic acid and acetonitrile (71:29;
v
/
v
). Isocratic elution was carried out at a flow rate of 0.35 mL/min. The constituents of Flos Sophorae Immaturus were simultaneously identified by EIS-Q-TOF MS/MS in multiple reaction monitoring mode. During quantitative analysis; all of the calibration curves showed good linear relationships (
R
2
> 0.999) within the tested ranges; and mean recoveries ranged from 96.0216% to 101.0601%. The precision determined through intra- and inter-day studies showed an RSD% of <2.833%. These results demonstrate that the developed method is accurate and effective and could be readily utilized for the comprehensive quality control of Flos Sophorae Immaturus.
View Full-Text
►

▼

Figures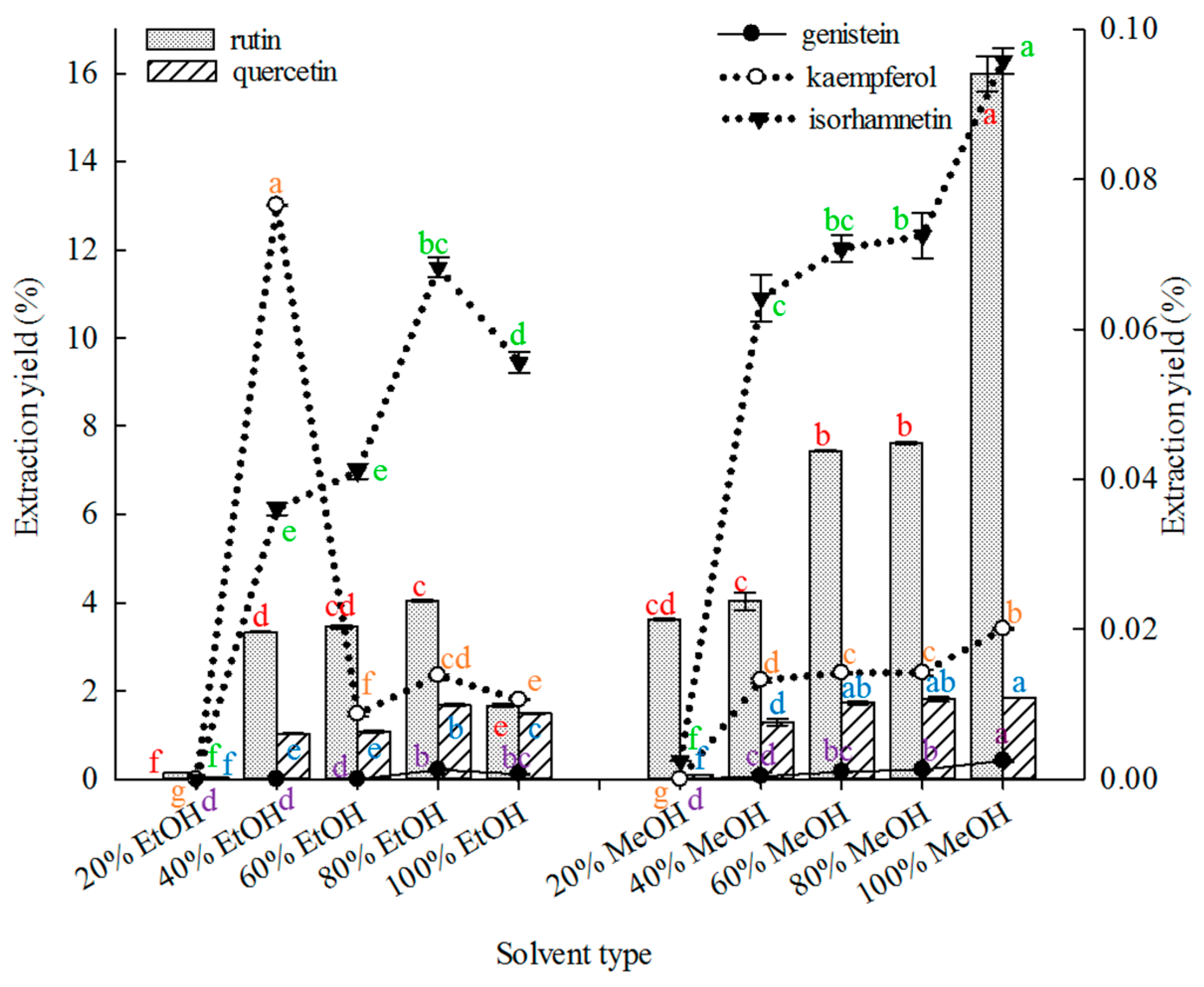 Figure 1
This is an open access article distributed under the
Creative Commons Attribution License
which permits unrestricted use, distribution, and reproduction in any medium, provided the original work is properly cited (CC BY 4.0).

Share & Cite This Article
MDPI and ACS Style
Liu, J.-L.; Li, L.-Y.; He, G.-H. Optimization of Microwave-Assisted Extraction Conditions for Five Major Bioactive Compounds from Flos Sophorae Immaturus (Cultivars of Sophora japonica L.) Using Response Surface Methodology. Molecules 2016, 21, 296.
Note that from the first issue of 2016, MDPI journals use article numbers instead of page numbers. See further details here.
Related Articles
Comments
[Return to top]