Asiatic Acid Attenuates Myocardial Ischemia/Reperfusion Injury via Akt/GSK-3β/HIF-1α Signaling in Rat H9c2 Cardiomyocytes
1
Institute of Translational Medicine, Nanchang University, 1299 Xuefu Avenue, Nanchang 330031, China
2
Department of Pharmacy, The First Affiliated Hospital of Nanchang University, 17 Yongwai Street, Nanchang 330006, China
3
Department of Physiology, China Pharmaceutical University, 24 Tongjiaxiang, Nanjing 210009, China
*
Author to whom correspondence should be addressed.
Academic Editor: Nancy D. Turner
Received: 26 August 2016 / Revised: 13 September 2016 / Accepted: 16 September 2016 / Published: 19 September 2016
Abstract
Myocardial ischemic/reperfusion injury results from severe impairment of coronary blood supply and leads to irreversible cell death, with limited therapeutic possibilities. Asiatic acid is a pentacyclic triterpenoid derived from the tropical medicinal plant
Centella asiatica
and serves a variety of bioactivities. In this study, we determined the effect of asiatic acid on myocardial ischemia/reperfusion injury and investigated the underlying mechanisms, using an in vitro rat H9c2 cardiomyocytes model of oxygen-glucose deprivation/reoxygenation (OGD/R) injury. Results showed that pre-treatment with asiatic acid significantly augmented cell viability and prevented lactate dehydrogenase (LDH) release in a concentration-dependent manner after OGD/R exposure. Asiatic acid at 10 μM effectively inhibited apoptotic cell death, suppressed the activities of caspase-3 and caspase-9, and reversed Bax/Bcl-2 ratio in hypoxic H9c2 cells. In addition, asiatic acid improved mitochondrial function, as evidenced by reduced reactive oxygen species (ROS) accumulation, enhanced mitochondrial membrane potential and decreased intracellular calcium concentration. Using Western blot assay, we found that asiatic acid promoted the phosphorylation of Akt and subsequent inactivation of glycogen synthase kinase-3β (GSK-3β), and induced the expression of hypoxia-inducible factor 1α (HIF-1α) after OGD/R. The cardioprotective effects of asiatic acid were attenuated by the Akt or HIF-1α inhibitor. Taken together, these data suggested that asiatic acid exerted protective effects against OGD/R-induced apoptosis in cardiomyocytes, at least partly via the Akt/GSK-3β/HIF-1α pathway.
View Full-Text
►

▼

Figures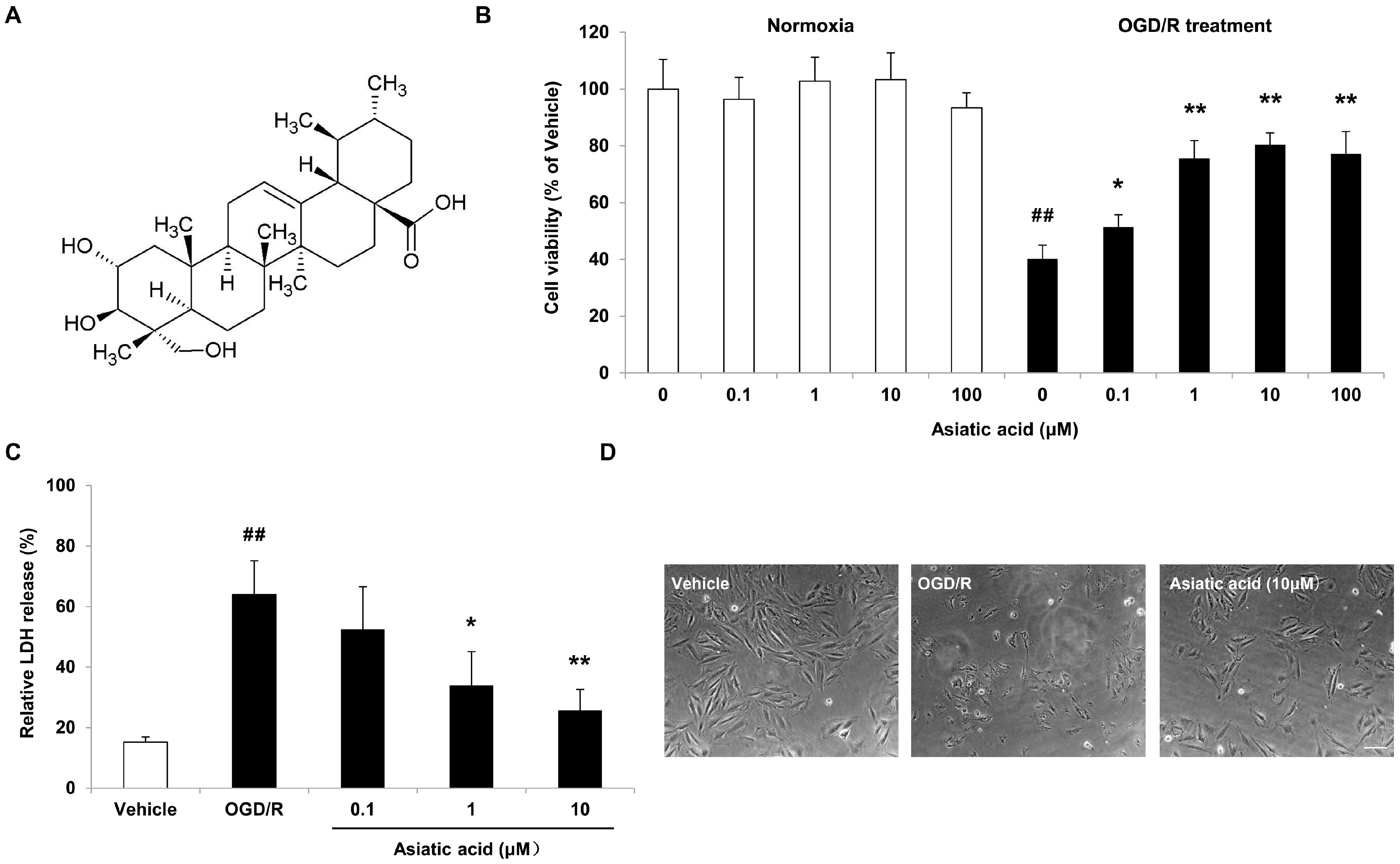 Figure 1
This is an open access article distributed under the
Creative Commons Attribution License
which permits unrestricted use, distribution, and reproduction in any medium, provided the original work is properly cited (CC BY 4.0).

Share & Cite This Article
MDPI and ACS Style
Huang, X.; Zuo, L.; Lv, Y.; Chen, C.; Yang, Y.; Xin, H.; Li, Y.; Qian, Y. Asiatic Acid Attenuates Myocardial Ischemia/Reperfusion Injury via Akt/GSK-3β/HIF-1α Signaling in Rat H9c2 Cardiomyocytes. Molecules 2016, 21, 1248.
Note that from the first issue of 2016, MDPI journals use article numbers instead of page numbers. See further details here.
Related Articles
Comments
[Return to top]