Erubescensoic Acid, a New Polyketide and a Xanthonopyrone SPF-3059-26 from the Culture of the Marine Sponge-Associated Fungus
Penicillium erubescens

KUFA 0220 and Antibacterial Activity Evaluation of Some of Its Constituents

1

ICBAS-Instituto de Ciências Biomédicas Abel Salazar, Universidade do Porto, Rua de Jorge Viterbo Ferreira, 228, 4050-313 Porto, Portugal

2

Interdisciplinary Centre of Marine and Environmental Research (CIIMAR), Terminal de Cruzeiros do Porto de Lexões, Av. General Norton de Matos s/n, 4450-208 Matosinhos, Portugal

3

Department of Plant Pathology, Faculty of Agriculture, Kasetsart University, Bangkok 10240, Thailand

4

Instituto de Biologia Molecular e Celular (i3S-IBMC), Universidade do Porto, Rua de Jorge Viterbo Ferreira, 228, 4050-313 Porto, Portugal

5

Departamento de Química & QOPNA, Universidade de Aveiro, 3810-193 Aveiro, Portugal

6

Laboratório de Química Orgânica, Departamento de Ciências Químicas, Faculdade de Farmácia, Universidade do Porto, Rua de Jorge Viterbo Ferreira, 228, 4050-313 Porto, Portugal

*

Authors to whom correspondence should be addressed.

Academic Editor: Isabel C.F.R. Ferreira

Received: 4 December 2018 / Revised: 2 January 2019 / Accepted: 3 January 2019 / Published: 8 January 2019

Full-Text

|

PDF

[639 KB, uploaded 8 January 2019]

|

|

Review Reports
Abstract
A new polyketide erubescensoic acid (
1
), and the previously reported xanthonopyrone, SPF-3059-26 (
2
), were isolated from the uninvestigated fractions of the ethyl acetate crude extract of the marine sponge-associated fungus
Penicillium erubescens
KUFA0220. The structures of the new compound, erubescensoic acid (
1
), and the previously reported SPF-3059-26 (
2
), were elucidated by extensive analysis of 1D and 2D-NMR spectra as well as HRMS. The absolute configuration of the stereogenic carbon of erubescensoic acid (
1
) was determined by X-ray analysis. Erubescensoic acid (
1
) and SPF-3059-26 (
2
), together with erubescenschromone B (
3
), penialidin D (
4
), and 7-hydroxy-6-methoxy-4-oxo-3-[(1
E
)-3-oxobut-1-en-1-yl]-4
H
-chromen-5-carboxylic acid (
5
), recently isolated from this fungus, were assayed for their antibacterial activity against gram-positive and gram-negative reference strains and the multidrug-resistant (MDR) strains from the environment. The capacity of these compounds to interfere with the bacterial biofilm formation and their potential synergism with clinically relevant antibiotics for the MDR strains were also investigated.
View Full-Text
►

▼

Figures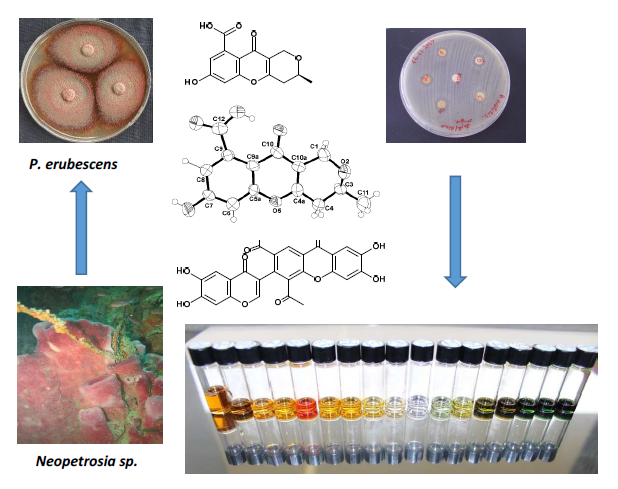 Graphical abstract
This is an open access article distributed under the
Creative Commons Attribution License
which permits unrestricted use, distribution, and reproduction in any medium, provided the original work is properly cited (CC BY 4.0).

Share & Cite This Article
MDPI and ACS Style
Kumla, D.; Dethoup, T.; Gales, L.; Pereira, J.A.; Freitas-Silva, J.; Costa, P.M.; Silva, A.M.S.; Pinto, M.M.M.; Kijjoa, A. Erubescensoic Acid, a New Polyketide and a Xanthonopyrone SPF-3059-26 from the Culture of the Marine Sponge-Associated Fungus Penicillium erubescens KUFA 0220 and Antibacterial Activity Evaluation of Some of Its Constituents. Molecules 2019, 24, 208.
Note that from the first issue of 2016, MDPI journals use article numbers instead of page numbers. See further details here.
Related Articles
Comments
[Return to top]