Eriobotrya japonica

Water Extract Characterization: An Inducer of Interferon-Gamma Production Mainly by the JAK-STAT Pathway

1

Department of Pharmacology and Biomedical Sciences, Faculty of Pharmacy and Medical Sciences, University of Petra, Amman 11196, Jordan

2

Petra University Pharmaceutical Center (PUPC), University of Petra, Amman 11196, Jordan

3

Department of Pharmaceutical Medicinal Chemistry and Pharmacognosy, Faculty of Pharmacy and Medical Sciences, University of Petra, Amman 11196, Jordan

4

Eusano GmbH & Co., Tussenhausen 86874, Germany

*

Author to whom correspondence should be addressed.

Academic Editor: Isabel C. F. R. Ferreira

Received: 17 April 2016 / Revised: 26 May 2016 / Accepted: 27 May 2016 / Published: 2 June 2016
Abstract
Eriobotrya japonica
(Thunb.) Lindl. (Loquat) (EJ) has been used as a medicinal plant to treat chronic bronchitis, coughs, phlegm, high fever and gastro-enteric disorders. Since the traditional use of EJ is related to modulating inflammation processes, our earlier studies on EJ leaves were performed on the water extract to investigate specific cytokines' modulation. These earlier studies, however, have shown that EJ leaf water extract (WE) and the water phase (WP) induce cytokines' production in
in vitro
and
in vivo
models. Therefore, the aim of this study was to specify the group(s) of compounds in EJ leaves that have this immunomodulatory activity and their mechanism of action. WE was obtained from boiling the leaves followed by butanol extraction, yielding a butanol-water phase (WP). WP was then subjected to methanol:acetone fractionation, yielding upper (MAU) and lower (MAL) phases. For further fractionation, MAU was subjected to column chromatography followed by elution with ethanol:water (EW), methanol:ethanol (ME) and, lastly, acetone:water (AW), respectively, to reveal three sub-fractions; MAU-EW, MAU-ME and MAU-AW. MAU-AW significantly increased IFN-γ production from unstimulated and stimulated mouse spleen cells, as well as CD3+ T cells and natural killer cells. Furthermore, the fold increase of IFN-γ production by MAU-AW was concentration dependent, higher than the parent extract or any of the other sub-fractions, and such an IFN-γ increase was reversed by two JAK-STAT inhibitors. In addition, MALDI-TOF-MS analysis of the extracts and sub-fractions showed compounds with molecular weights of >500 Daltons. The MAU-AW sub-fraction contained more polar compounds, such as flavonol and caffeic glycosides. In conclusion, these polar compounds in the EJ extract are responsible for inducing IFN-γ production. Further chemical elucidation is warranted to lead to a specific IFN-γ inducer and an immunomodulator in polarizing immune cells and balancing immune responses in certain diseases.
View Full-Text
►

▼

Figures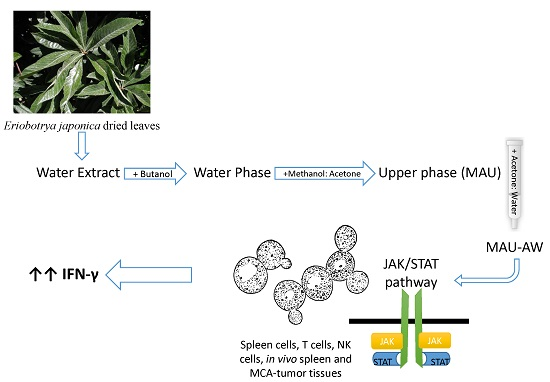 Graphical abstract
This is an open access article distributed under the
Creative Commons Attribution License
which permits unrestricted use, distribution, and reproduction in any medium, provided the original work is properly cited (CC BY 4.0).

Share & Cite This Article
MDPI and ACS Style
Matalka, K.Z.; Abdulridha, N.A.; Badr, M.M.; Mansoor, K.; Qinna, N.A.; Qadan, F. Eriobotrya japonica Water Extract Characterization: An Inducer of Interferon-Gamma Production Mainly by the JAK-STAT Pathway. Molecules 2016, 21, 722.
Note that from the first issue of 2016, MDPI journals use article numbers instead of page numbers. See further details here.
Related Articles
Comments
[Return to top]