Bioactive Compounds in Cornelian Cherry Vinegars
1
Department of Fermentation and Cereals Technology, Faculty of Food Science, 51-630 Wrocław, Poland
2
Department of Fruit, Vegetable and Plant Nutraceutical Technology, Faculty of Food Science, Wroclaw University of Environmental and Life Sciences, 51-630 Wroław, Poland
3
Arboretum and Institute of Physiography in Bolestraszyce, 37-700 Przemyśl, Poland
4
Faculty of Physical Educaion, University of Rzeszów, 35-959 Rzeszów, Poland
*
Author to whom correspondence should be addressed.
Received: 18 January 2018 / Revised: 6 February 2018 / Accepted: 7 February 2018 / Published: 10 February 2018
Abstract
We analyzed the effect of Cornelian cherry varieties differing in fruit color ('Yantaryi'—yellow fruits, 'Koralovyi'—coral fruits, 'Podolski'—red fruits) and the production method on the physicochemical and antioxidative properties of Cornelian cherry vinegars, and on their content of iridoids and polyphenols. Acetic fermentation was conducted by two methods: I) single-stage (spontaneous) acetic fermentation, without inoculation with microorganisms, and II) two-stage fermentation in which the first stage involved the use of
Saccharomyces bayanus
—Safspirit fruit yeast for alcoholic fermentation, and the second one included spontaneous acetic fermentation. Acetic acid, glycerol, individual iridoids, phenolic acids, flavonols, and anthocyanins were quantified by a high-performance liquid chromatography (HPLC) method. The antioxidative activity was determined based on the following tests: 2,2-Diphenyl-2-picryl-hydrazyl (DPPH
•
), 2,2′-Azino-bis(3-ethylbenzo-thiazoline-6-sulfonic acid (ABTS
•+
), and ferric reducing antioxidant power (FRAP), while the total polyphenols content was determined using the Folin-Ciocialteu (F-C) reagent test. Both the Cornelian cherry variety and vinegar production method affected the antioxidative properties as well as concentrations of iridoids and polyphenols in the finished product. The concentration of total polyphenols (F-C) in vinegars ranged from 326.60 to 757.27 mg gallic acids equivalents (GAE)/100 mL vinegar, whereas the antioxidative activity assayed with the DPPH
•
and FRAP methods was the highest in the vinegars produced from the coral and red varieties of Cornelian cherry with the two-stage method. Loganic acid predominated among the identified iridoids, reaching a concentration of 185.07 mg loganic acid (LA)/100 mL in the vinegar produced in the two-stage fermentation from the coral-fruit variety. Caffeoylquinic acid derivatives were the main representatives among the identified phenolic compounds. The results of this study demonstrate Cornelian cherry vinegars to be rich sources of biologically-active iridoids and phenolic compounds with antioxidative properties.
View Full-Text
►

▼

Figures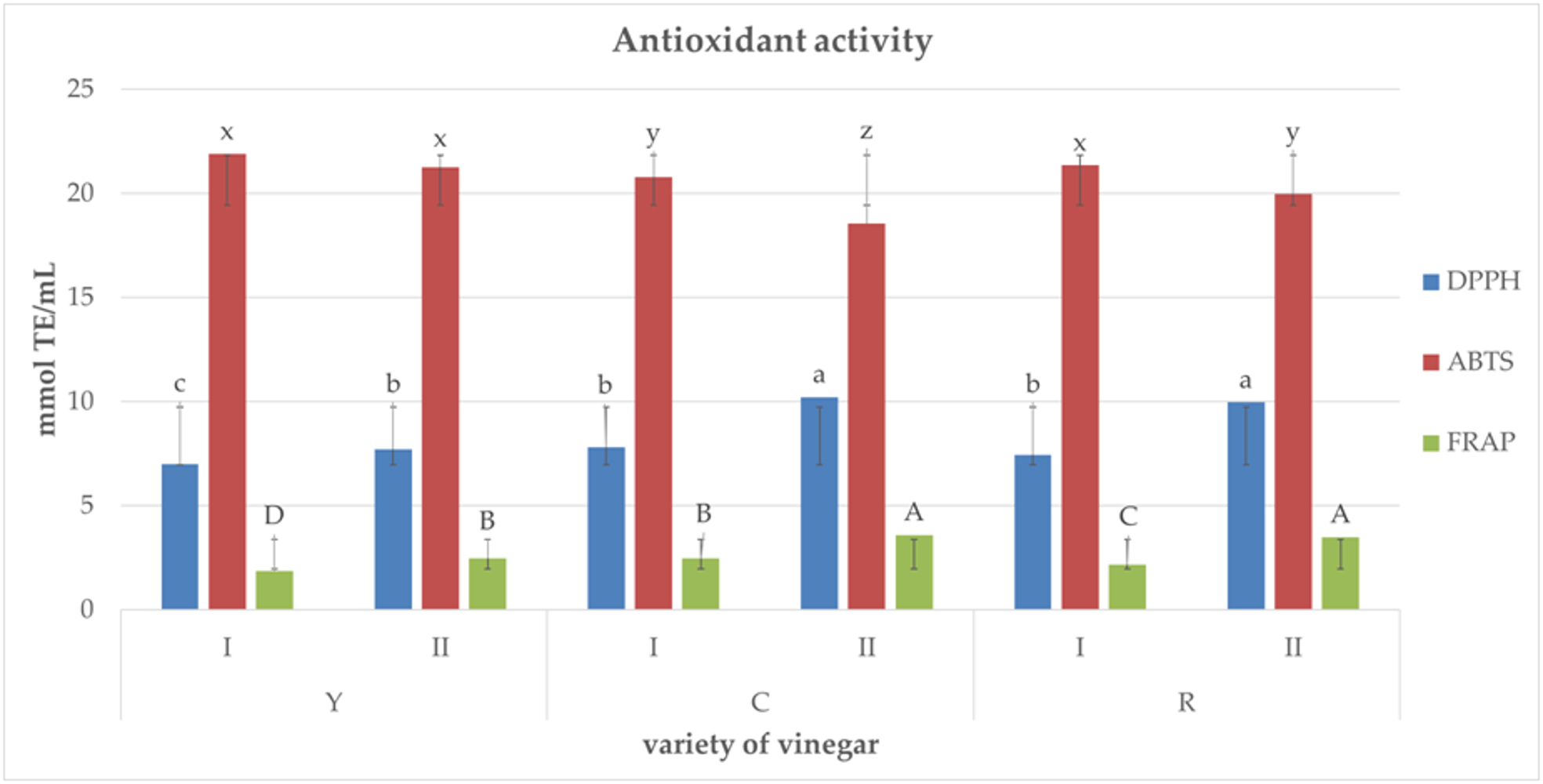 Graphical abstract
This is an open access article distributed under the
Creative Commons Attribution License
which permits unrestricted use, distribution, and reproduction in any medium, provided the original work is properly cited (CC BY 4.0).

Share & Cite This Article
MDPI and ACS Style
Kawa-Rygielska, J.; Adamenko, K.; Kucharska, A.Z.; Piórecki, N. Bioactive Compounds in Cornelian Cherry Vinegars. Molecules 2018, 23, 379.
Note that from the first issue of 2016, MDPI journals use article numbers instead of page numbers. See further details here.
Related Articles
Comments
[Return to top]