Bioactive Properties of
Tabebuia impetiginosa

-Based Phytopreparations and Phytoformulations: A Comparison between Extracts and Dietary Supplements

1

Centro de Investigação de Montanha (CIMO), ESA, Instituto Politécnico de Bragança, Campus de Santa Apolónia, 1172, 5301-855 Bragança, Portugal

2

Centro de Química, Universidade do Minho, Campus de Gualtar, 4710-057 Braga, Portugal

*

Author to whom correspondence should be addressed.

Academic Editor: Derek J. McPhee

Received: 12 November 2015 / Revised: 15 December 2015 / Accepted: 17 December 2015 / Published: 21 December 2015
Abstract
Tabebuia impetiginosa
(Mart. ex DC.) Standl. has been used in traditional medicine for many centuries, being nowadays marketed as dried plant material (inner bark) for infusions, pills, and syrups. The main objective of the present work was to validate its popular use through the bioactivity evaluation of the inner bark (methanolic extract and infusion) and of two different formulations (pills and syrup) also based on the same plant-material. The antioxidant activity was evaluated by in vitro assays testing free radical scavenging activity, reducing power and inhibition of lipid peroxidation in brain homogenates. The cytotoxicity was determined in four human tumor cell lines (MCF-7, NCI-H460, HeLa and HepG2, and also in non-tumor cells (porcine liver primary cells, PLP2)). Furthermore, the sample was chemically characterized regarding free sugars, organic acids, fatty acids, and tocopherols. Syrup and methanolic extract showed the highest antioxidant activity, related to their highest amount of phenolics and flavonoids. Methanolic extract was the only sample showing cytotoxic effects on the tested human tumor cell lines, but none of the samples showed toxicity in PLP2. Glucose and oxalic acid were, respectively, the most abundant sugar and organic acid in the sample. Unsaturated predominated over the saturated fatty acids, due to oleic, linoleic, and linolenic acids expression. α- and γ-Tocopherols were also identified and quantified. Overall,
T. impetiginosa
might be used in different phytoformulations, taking advantage of its interesting bioactive properties and chemical composition.
View Full-Text
►

▼

Figures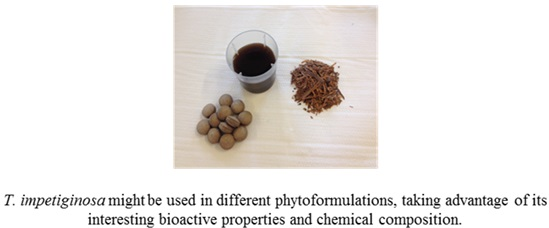 Graphical abstract
This is an open access article distributed under the
Creative Commons Attribution License
which permits unrestricted use, distribution, and reproduction in any medium, provided the original work is properly cited (CC BY 4.0).

Share & Cite This Article
MDPI and ACS Style
Pires, T.C.S.P.; Dias, M.I.; Calhelha, R.C.; Carvalho, A.M.; Queiroz, M.-J.R.P.; Barros, L.; Ferreira, I.C.F.R. Bioactive Properties of Tabebuia impetiginosa-Based Phytopreparations and Phytoformulations: A Comparison between Extracts and Dietary Supplements. Molecules 2015, 20, 22863-22871.
Related Articles
Comments
[Return to top]