Piplartine-Inspired 3,4,5-Trimethoxycinnamates: Trypanocidal, Mechanism of Action, and In Silico Evaluation
Molecules 2023, 28(11), 4512; https://doi.org/10.3390/molecules28114512 (registering DOI) - 02 Jun 2023
Abstract
Chagas disease (CD) is one of the main neglected tropical diseases that promote relevant socioeconomic impacts in several countries. The therapeutic options for the treatment of CD are limited, and parasite resistance has been reported. Piplartine is a phenylpropanoid imide that has diverse
[...] Read more.
Chagas disease (CD) is one of the main neglected tropical diseases that promote relevant socioeconomic impacts in several countries. The therapeutic options for the treatment of CD are limited, and parasite resistance has been reported. Piplartine is a phenylpropanoid imide that has diverse biological activities, including trypanocidal action. Thus, the objective of the present work was to prepare a collection of thirteen esters analogous to piplartine (
1
–
13
) and evaluate their trypanocidal activity against
Trypanosoma cruzi.
Of the tested analogues, compound
11
((
E
)-furan-2-ylmethyl 3-(3,4,5-trimethoxyphenyl)acrylate) showed good activity with IC
50
values = 28.21 ± 5.34 μM and 47.02 ± 8.70 μM, against the epimastigote and trypomastigote forms, respectively. In addition, it showed a high rate of selectivity to the parasite. The trypanocidal mechanism of action occurs through the induction of oxidative stress and mitochondrial damage. In addition, scanning electron microscopy showed the formation of pores and leakage of cytoplasmic content. Molecular docking indicated that
11
probably produces a trypanocidal effect through a multi-target mechanism, including affinity with proteins CRK1, MPK13, GSK3B, AKR, UCE-1, and UCE-2, which are important for the survival of the parasite. Therefore, the results suggest chemical characteristics that can serve for the development of new trypanocidal prototypes for researching drugs against Chagas disease.
Full article
►

▼

Show Figures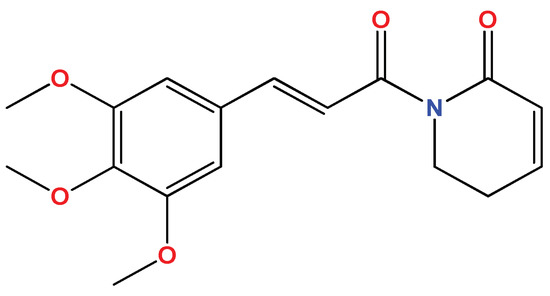 Figure 1