Cytotoxicity and Pro-Apoptotic Activity of 2,2´-Bis[4,5-bis(4-hydroxybenzyl)-2-(4-hydroxyphenyl)cyclopent-4-en-1,3-dione], a Phenolic Cyclopentenedione Isolated from the Cyanobacterium Strain
Nostoc

sp. str. Lukešová 27/97

1

Department of Medical Chemistry and Biochemistry, Faculty of Medicine and Dentistry, Palacký University, Hněvotínská 3, 775 15 Olomouc, Czech Republic

2

Department Physical Chemistry, Faculty of Science, Palacký University, tř. 17.listopadu 12, 771 46 Olomouc, Czech Republic

3

Department of Autotrophic Microorganisms, Institute of Microbiology, Academy of Sciences of the Czech Republic, Opatovický mlýn, 379 81 Třeboň, Czech Republic

*

Author to whom correspondence should be addressed.

Received: 14 March 2011 / Revised: 13 May 2011 / Accepted: 18 May 2011 / Published: 23 May 2011
Abstract
The cytotoxicity of the polyphenol 2,2´-bis[4,5-bis(4-hydroxybenzyl)-2-(4-hydroxyphenyl)cyclopent-4-en-1,3-dione], nostotrebin 6 (NOS-6), was tested under
in vitro
conditions using mouse fibroblasts (BALB/c cells). Identification of NOS-6 and its uptake into fibroblasts was examined by multi-stage mass spectrometry analysis with the following fragmentation pattern: MS (
m/z
) [M+H]
+
799.1 → MS
2
399.1 → MS
3
305.1 → MS
4
277.1. Using several cell viability assays, the IC
50
of NOS-6 after 24 h incubation was found to be 8.48 ± 0.16/12.15 ± 1.96 µM (neutral red/MTT assay) which was higher than that of doxorubicin. It was found that NOS-6 is capable of inducing both types of cell death, apoptosis and necrosis in a dose-dependent manner. The biological activities of the cyclopentenediones and preliminary data on NOS-6 cytotoxicity are discussed.
View Full-Text
►

▼

Figures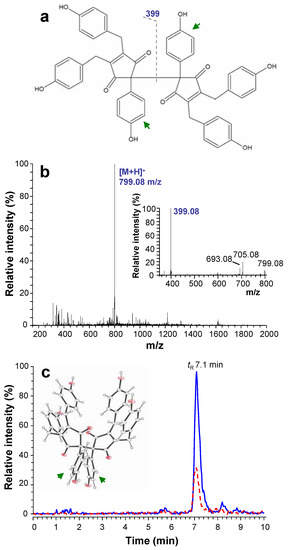 Figure 1

Share & Cite This Article
MDPI and ACS Style
Vacek, J.; Hrbáč, J.; Kopecký, J.; Vostálová, J. Cytotoxicity and Pro-Apoptotic Activity of 2,2´-Bis[4,5-bis(4-hydroxybenzyl)-2-(4-hydroxyphenyl)cyclopent-4-en-1,3-dione], a Phenolic Cyclopentenedione Isolated from the Cyanobacterium Strain Nostoc sp. str. Lukešová 27/97. Molecules 2011, 16, 4254-4263.
Related Articles
Comments
[Return to top]