Design and Synthesis of Benzene Homologues Tethered with 1,2,4-Triazole and 1,3,4-Thiadiazole Motifs Revealing Dual MCF-7/HepG2 Cytotoxic Activity with Prominent Selectivity via Histone Demethylase LSD1 Inhibitory Effect
Int. J. Mol. Sci. 2022, 23(15), 8796; https://doi.org/10.3390/ijms23158796 (registering DOI) - 08 Aug 2022
Abstract
In this study, an efficient multistep synthesis of novel aromatic tricyclic hybrids incorporating different biological active moieties, such as 1,3,4-thiadiazole and 1,2,4-triazole, was reported. These target scaffolds are characterized by having terminal lipophilic or hydrophilic parts, and their structures are confirmed by different
[...] Read more.
In this study, an efficient multistep synthesis of novel aromatic tricyclic hybrids incorporating different biological active moieties, such as 1,3,4-thiadiazole and 1,2,4-triazole, was reported. These target scaffolds are characterized by having terminal lipophilic or hydrophilic parts, and their structures are confirmed by different spectroscopic methods. Further, the cytotoxic activities of the newly synthesized compounds were evaluated using in vitro MTT cytotoxicity screening assay against three different cell lines, including HepG-2, MCF-7, and HCT-116, compared with the reference drug Taxol. The results showed variable performance against cancer cell lines, exhibiting MCF-7 and HepG-2 selectivities by active analogs. Among these derivatives, 1,2,4-triazoles
11
and
13
and 1,3,4-thiadiazole
18
were found to be the most potent compounds against MCF-7 and HepG-2 cancer cells. Moreover, structure–activity relationship (SAR) studies led to the identification of some potent LSD1 inhibitors. The tested compounds showed good LSD1 inhibitory activities, with an IC
50
range of 0.04–1.5 μM. Compounds
27
,
23
, and
22
were found to be the most active analogs with IC
50
values of 0.046, 0.065, and 0.074 μM, respectively. In addition, they exhibited prominent selectivity against a MAO target with apparent cancer cell apoptosis, resulting in DNA fragmentation. This research provides some new aromatic-centered 1,2,4-triazole-3-thione and 1,3,4-thiadiazole analogs as highly effective anticancer agents with good LSD1 target selectivity.
Full article
►

▼

Show Figures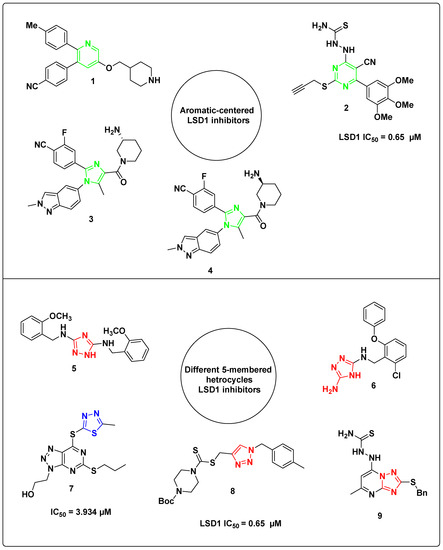 Figure 1