Synthesis of Novel Analogs of Thieno[2,3-d] Pyrimidin-4(3H)-ones as Selective Inhibitors of Cancer Cell Growth
Biomolecules 2019, 9(10), 631; https://doi.org/10.3390/biom9100631 (registering DOI) - 21 Oct 2019
Abstract
New 2,3-disubstituted thieno[2,3-
d
]pyrimidin-4(3
H
)-ones were synthesized via a one-pot reaction from 2
H
-thieno[2,3-
d
] [1,3]oxazine-2,4(1
H
)-diones, aromatic aldehydes, and benzylamine or 4-hydroxylbezylamine. The obtained compounds were tested in vitro for cancer cell growth inhibition. Compound
19
can
[...] Read more.
New 2,3-disubstituted thieno[2,3-
d
]pyrimidin-4(3
H
)-ones were synthesized via a one-pot reaction from 2
H
-thieno[2,3-
d
] [1,3]oxazine-2,4(1
H
)-diones, aromatic aldehydes, and benzylamine or 4-hydroxylbezylamine. The obtained compounds were tested in vitro for cancer cell growth inhibition. Compound
19
can inhibit all four types of tested cancer cells, i.e., MCF-7, A549, PC-9, and PC-3 cells. Most of the compounds inhibited the proliferation of A549 and MCF-7 cells. Compound
15
exhibited the strongest anti-proliferative effect against A549 cell lines with IC
50
values of 0.94 μM, and with no toxicity to normal human liver cells. Its potency was further proved by cell clone formation assay, Hoechst 33258 staining, and evaluation on the effects of apoptosis-related proteins.
Full article
►

▼

Show Figures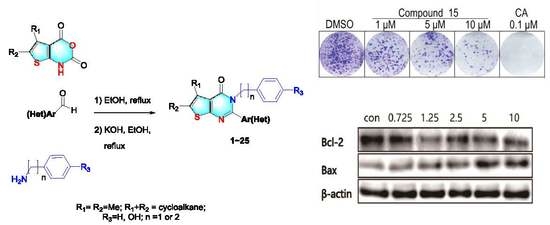 Graphical abstract