Pediatric Patients with Stage IV Rhabdomyosarcoma Significantly Benefit from Long-Term Maintenance Therapy: Results of the CWS-IV 2002 and the CWS DOK IV 2004-Trials
Cancers 2023, 15(7), 2050; https://doi.org/10.3390/cancers15072050 (registering DOI) - 30 Mar 2023
Abstract
Rhabdomyosarcoma (RMS) is the most common soft tissue sarcoma (STS) in childhood. Whereas more than 90% of patients with localized low-risk RMS can be cured, metastatic RMS have a dismal outcome, with survival rates of less than 30%. The HD CWS-96 trial showed
[...] Read more.
Rhabdomyosarcoma (RMS) is the most common soft tissue sarcoma (STS) in childhood. Whereas more than 90% of patients with localized low-risk RMS can be cured, metastatic RMS have a dismal outcome, with survival rates of less than 30%. The HD CWS-96 trial showed an improved outcome for patients receiving maintenance therapy after completing intensive chemotherapy. Consequently, the international clinical trials CWS-IV 2002 and CWS DOK IV 2004 on metastatic disease of STS of the Cooperative Weichteilsarkom Studiengruppe (CWS) were designed in addition to the CWS-2002P trial for localized RMS disease. All patients received a multimodal intensive treatment regimen. To maintain remission, three options were compared: long-term maintenance therapy (LTMT) versus allogeneic hematopoietic stem cell transplantation (alloHSCT) versus high-dose chemotherapy (HDCT). A total of 176 pediatric patients with a histologically confirmed diagnosis of metastatic RMS or RMS-like tumor were included. A total of 89 patients receiving LTML showed a significantly better outcome, with an event-free survival (EFS) of 41% and an overall survival (OS) of 53%, than alloHSCT (
n
= 21, EFS 19%,
p
= 0.02, OS 24%,
p
= 0.002). The outcome of LTML was slightly improved compared to HDCT (
n
= 13, EFS 35%, OS 34%). In conclusion, our data suggest that in patients suffering from metastatic RMS, long-term maintenance therapy is a superior strategy in terms of EFS and OS compared to alloHSCT. EFS and OS of HDCT are similar in these strategies; however, the therapeutic burden of LTMT is much lower.
Full article
►

▼

Show Figures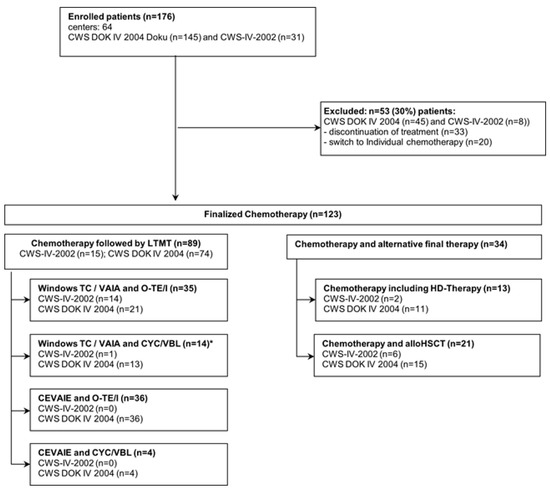 Figure 1