A Survey of Molecular Imaging of Opioid Receptors
Molecules 2019, 24(22), 4190; https://doi.org/10.3390/molecules24224190 (registering DOI) - 19 Nov 2019
Abstract
The discovery of endogenous peptide ligands for morphine binding sites occurred in parallel with the identification of three subclasses of opioid receptor (OR), traditionally designated as μ, δ, and κ, along with the more recently defined opioid-receptor-like (ORL1) receptor. Early efforts in opioid
[...] Read more.
The discovery of endogenous peptide ligands for morphine binding sites occurred in parallel with the identification of three subclasses of opioid receptor (OR), traditionally designated as μ, δ, and κ, along with the more recently defined opioid-receptor-like (ORL1) receptor. Early efforts in opioid receptor radiochemistry focused on the structure of the prototype agonist ligand, morphine, although
N
-[methyl-
11
C]morphine, -codeine and -heroin did not show significant binding
in vivo
. [
11
C]Diprenorphine ([
11
C]DPN), an orvinol type, non-selective OR antagonist ligand, was among the first successful PET tracers for molecular brain imaging, but has been largely supplanted in research studies by the μ-preferring agonist [
11
C]carfentanil ([
11
C]Caf). These two tracers have the property of being displaceable by endogenous opioid peptides in living brain, thus potentially serving in a competition-binding model. Indeed, many clinical PET studies with [
11
C]DPN or [
11
C]Caf affirm the release of endogenous opioids in response to painful stimuli. Numerous other PET studies implicate μ-OR signaling in aspects of human personality and vulnerability to drug dependence, but there have been very few clinical PET studies of μORs in neurological disorders. Tracers based on naltrindole, a non-peptide antagonist of the δ-preferring endogenous opioid enkephalin, have been used in PET studies of δORs, and [
11
C]GR103545 is validated for studies of κORs. Structures such as [
11
C]NOP-1A show selective binding at ORL-1 receptors in living brain. However, there is scant documentation of δ-, κ-, or ORL1 receptors in healthy human brain or in neurological and psychiatric disorders; here, clinical PET research must catch up with recent progress in radiopharmaceutical chemistry.
Full article
►

▼

Show Figures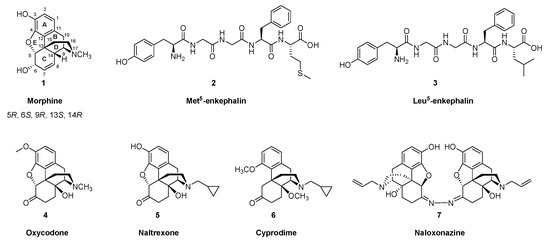 Figure 1