Sinularin, an Anti-Cancer Agent Causing Mitochondria-Modulated Apoptosis and Cytoskeleton Disruption in Human Hepatocellular Carcinoma
Int. J. Mol. Sci. 2021, 22(8), 3946; https://doi.org/10.3390/ijms22083946 (registering DOI) - 11 Apr 2021
Abstract
Liver cancer remains a leading cause of death, despite advances in anti-cancer therapies. To develop novel drugs, natural products are being considered as a good source for exploration. In this study, a natural product isolated from a soft coral was applied to evaluate
[...] Read more.
Liver cancer remains a leading cause of death, despite advances in anti-cancer therapies. To develop novel drugs, natural products are being considered as a good source for exploration. In this study, a natural product isolated from a soft coral was applied to evaluate its anti-cancer activities in hepatocellular carcinoma SK-HEP-1 cells. Sinularin was determined to have half-maximal inhibitory concentration (IC
50
) values of ~10 μM after 24, 48, and 72 h. The TUNEL assay and annexin V/PI staining results showed that sinularin induced DNA fragmentation and apoptosis, respectively. An investigation at the molecular level demonstrated that the expression levels of cleaved caspases 3/9 were significantly elevated at 10 μM sinularin. Mitochondrial and intracellular reactive oxygen species (ROS) levels were significantly increased following sinularin treatment, which also affected the mitochondrial membrane potential. In addition, it significantly lowered the mitochondrial respiration parameters and extracellular acidification rates at 10 μM. Further investigation showed that sinularin significantly attenuated wound healing, cell migration, and potential colony formation at 10 μM. Fluorescence microscopic observations showed that the distribution of F-actin filaments was significantly altered at 10 μM sinularin. Supported by Western blot analyses, the expression levels of AKT, p-ERK (extracellular-signal-related kinase), vimentin and VEGF were significantly down-regulated, whereas p-p38, pJNK and E-cadherin were significantly increased. Overall, at the IC
50
concentration, sinularin was able to significantly affect SK-HEP-1 cells.
Full article
►

▼

Show Figures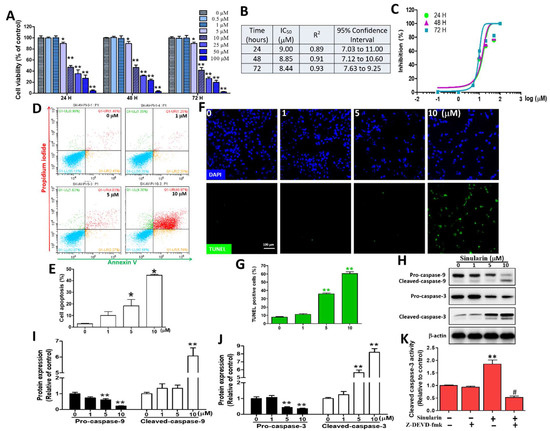 Figure 1