Development of Asialoglycoprotein Receptor-Targeted Nanoparticles for Selective Delivery of Gemcitabine to Hepatocellular Carcinoma
Molecules 2019, 24(24), 4566; https://doi.org/10.3390/molecules24244566 (registering DOI) - 13 Dec 2019
Abstract
Selective targeting of anticancer drugs to the tumor site is beneficial in the pharmacotherapy of hepatocellular carcinoma (HCC). This study evaluated the prospective of galactosylated chitosan nanoparticles as a liver-specific carrier to improve the therapeutic efficacy of gemcitabine in HCC by targeting asialoglycoprotein
[...] Read more.
Selective targeting of anticancer drugs to the tumor site is beneficial in the pharmacotherapy of hepatocellular carcinoma (HCC). This study evaluated the prospective of galactosylated chitosan nanoparticles as a liver-specific carrier to improve the therapeutic efficacy of gemcitabine in HCC by targeting asialoglycoprotein receptors expressed on hepatocytes. Nanoparticles were formulated (G1–G5) by an ionic gelation method and evaluated for various physicochemical characteristics. Targeting efficacy of formulation G4 was evaluated in rats. Physicochemical characteristics exhibited by nanoparticles were optimal for administering and targeting gemcitabine effectively to the liver. The biphasic release behavior observed with G4 can provide higher drug concentration and extend the pharmacotherapy in the liver target site. Rapid plasma clearance of gemcitabine (70% in 30 min) from G4 was noticed in rats with HCC as compared to pure drug (
p
< 0.05). Higher uptake of gemcitabine predominantly by HCC (64% of administered dose;
p
< 0.0001) demonstrated excellent liver targeting by G4, while mitigating systemic toxicity. Morphological, biochemical, and histopathological examination as well as blood levels of the tumor marker, alpha-fetoprotein, in rats confirmed the curative effect of G4. In conclusion, this study demonstrated site-specific delivery and enhanced in vivo anti-HCC efficacy of gemcitabine by G4, which could function as promising carrier in hepatoma.
Full article
►

▼

Show Figures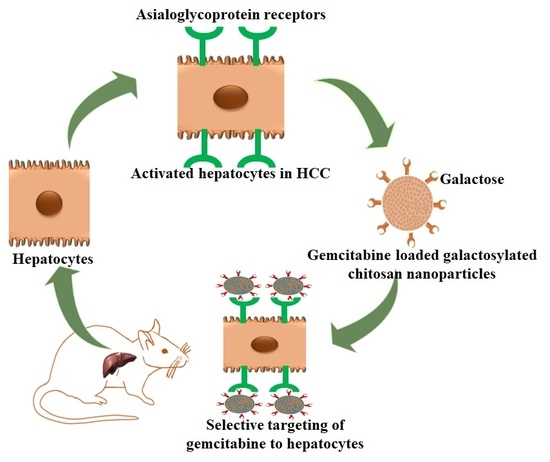 Graphical abstract