Occurrence and Characteristics of Microplastics in Wild and Farmed Shrimps Collected from Cau Hai Lagoon, Central Vietnam
Molecules 2023, 28(12), 4634; https://doi.org/10.3390/molecules28124634 (registering DOI) - 08 Jun 2023
Abstract
This study investigated the occurrence of microplastics (MPs) in the gastrointestinal tracts (GT) and tissues of four common shrimps (including two wild-caught shrimps and two farmed shrimps) collected from a high-diversity lagoon in central Vietnam. The numbers of MP items in greasy-back shrimp
[...] Read more.
This study investigated the occurrence of microplastics (MPs) in the gastrointestinal tracts (GT) and tissues of four common shrimps (including two wild-caught shrimps and two farmed shrimps) collected from a high-diversity lagoon in central Vietnam. The numbers of MP items in greasy-back shrimp (
Metapenaeus ensis
), green tiger shrimp (
Penaeus semisulcatus
), white-leg shrimp (
Litopenaeus vannamei
), and giant tiger shrimp (
Penaeus monodon
), determined per weight and individual, were 0.7 ± 0.3, 0.6 ± 0.2, 1.1 ± 0.4, and 0.5 ± 0.3 (items/g-ww), and 2.5 ± 0.5, 2.3 ± 0.7, 8.6 ± 3.5, 7.7 ± 3.5 (items/individual), respectively. The concentration of microplastics in the GT samples was significantly higher than that in the tissue samples (
p
< 0.05). The number of microplastics in the farmed shrimp (white-leg shrimp and black tiger shrimp) was statistically significantly higher than the number of microplastics in the wild-caught shrimp (greasy-back and green tiger shrimps) (
p
<0.05). Fibers and fragments were the dominant shapes of the MPs, followed by pellets, and these accounted for 42–69%, 22–57%, and 0–27% of the total microplastics, respectively. The chemical compositions determined using FTIR confirmed six polymers, in which rayon was the most abundant polymer, accounting for 61.9% of the MPs found, followed by polyamide (10.5%), PET (6.7%), polyethylene (5.7%), polyacrylic (5.8%), and polystyrene (3.8%). As the first investigation on the MPs in shrimps from Cau Hai Lagoon, central Vietnam, this study provides useful information on the occurrences and characteristics of the microplastics in the gastrointestinal tracts and tissues of four shrimp species that live in different living conditions.
Full article
►

▼

Show Figures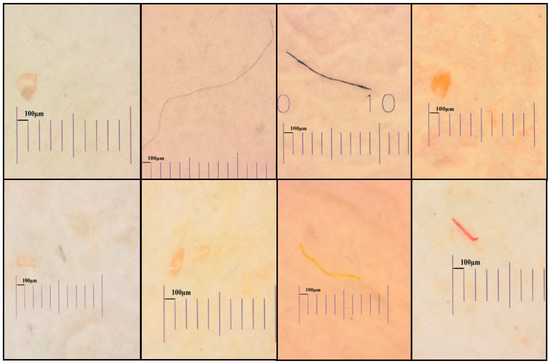 Figure 1