Functionally Validating Evolutionary Conserved Risk Genes for Parkinson's Disease in Drosophila melanogaster
Insects 2023, 14(2), 168; https://doi.org/10.3390/insects14020168 (registering DOI) - 09 Feb 2023
Abstract
Parkinson's disease (PD) is a heterogeneous and complex neurodegenerative disorder and large-scale genetic studies have identified >130 genes associated with PD. Although genomic studies have been decisive for our understanding of the genetic contributions underlying PD, these associations remain as statistical associations. Lack
[...] Read more.
Parkinson's disease (PD) is a heterogeneous and complex neurodegenerative disorder and large-scale genetic studies have identified >130 genes associated with PD. Although genomic studies have been decisive for our understanding of the genetic contributions underlying PD, these associations remain as statistical associations. Lack of functional validation limits the biological interpretation; however, it is labour extensive, expensive, and time consuming. Therefore, the ideal biological system for functionally validating genetic findings must be simple. The study aim was to assess systematically evolutionary conserved PD-associated genes using
Drosophila melanogaster
. From a literature review, a total of 136 genes have found to be associated with PD in GWAS studies, of which 11 are strongly evolutionary conserved between
Homo sapiens
and
D. melanogaster
. By ubiquitous gene expression knockdown of the PD-genes in
D. melanogaster
, the flies' escape response was investigated by assessing their negative geotaxis response, a phenotype that has previously been used to investigate PD in
D. melanogaster
. Gene expression knockdown was successful in 9/11 lines, and phenotypic consequences were observed in 8/9 lines. The results provide evidence that genetically modifying expression levels of PD genes in
D. melanogaster
caused reduced climbing ability of the flies, potentially supporting their role in dysfunctional locomotion, a hallmark of PD.
Full article
►

▼

Show Figures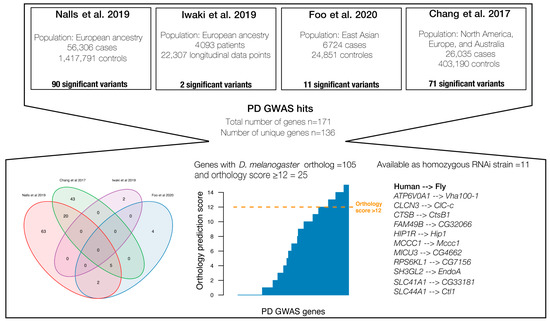 Figure 1