Molecular Survey of Vector-Borne Pathogens in Ticks, Sheep Keds, and Domestic Animals from Ngawa, Southwest China
Pathogens 2022, 11(5), 606; https://doi.org/10.3390/pathogens11050606 (registering DOI) - 22 May 2022
Abstract
Vector-borne pathogens are mainly transmitted by blood-feeding arthropods such as ticks, mosquitoes, fleas, lice, mites, etc. They pose a significant threat to animal and human health due to their worldwide distribution. Although much work has been performed on these pathogens, some neglected areas
[...] Read more.
Vector-borne pathogens are mainly transmitted by blood-feeding arthropods such as ticks, mosquitoes, fleas, lice, mites, etc. They pose a significant threat to animal and human health due to their worldwide distribution. Although much work has been performed on these pathogens, some neglected areas and undiscovered pathogens are still to be further researched. In this study, ticks (
Haemaphysalis qinghaiensis
), sheep keds (
Melophagus ovinus
), and blood samples from yaks and goats were collected in Ngawa Tibetan and Qiang Autonomous Prefecture located on the eastern edge of the Qinghai–Tibet Plateau, Southwest China. Several vector-borne bacterial pathogens were screened and studied.
Anaplasma bovis
strains representing novel genotypes were detected in ticks (8.83%, 37/419), yak blood samples (45.71%, 64/140), and goat blood samples (58.93%, 33/56). Two spotted fever group (SFG)
Rickettsiae
,
Candidatus
Rickettsia jingxinensis, and a novel
Rickettsia
species named
Candidatus
Rickettsia hongyuanensis were identified in ticks. Another
Rickettsia
species closely related to the
Rickettsia
endosymbiont of
Polydesmus complanatus
was also detected in ticks. Furthermore, a
Coxiella
species was detected in ticks (3.34%, 14/419), keds (1.89%, 2/106), and yak blood (0.71%, 1/140). Interestingly, another
Coxiella
species and a
Coxiella
-like bacterium were detected in a tick and a goat blood sample, respectively. These results indicate the remarkable diversity of vector-borne pathogens circulating in this area. Further investigations on their pathogenicity to humans and domestic animals are still needed.
Full article
►

▼

Show Figures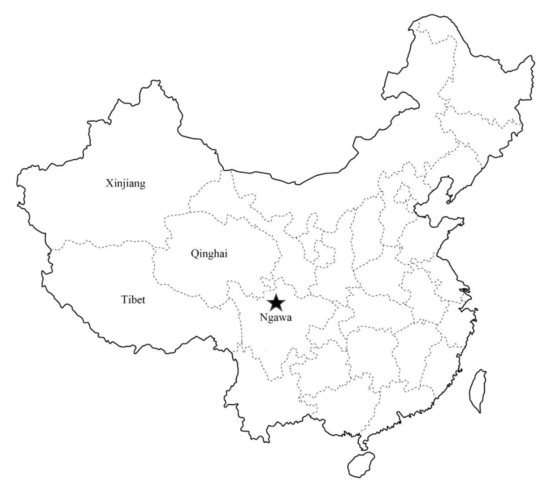 Figure 1