Novel ELAC2 Mutations in Individuals Presenting with Variably Severe Neurological Disease in the Presence or Absence of Cardiomyopathy
Life 2023, 13(2), 445; https://doi.org/10.3390/life13020445 (registering DOI) - 04 Feb 2023
Abstract
Transcription of mitochondrial DNA generates long polycistronic precursors whose nucleolytic cleavage yields the individual mtDNA-encoded transcripts. In most cases, this cleavage occurs at the 5′- and 3′-ends of tRNA sequences by the concerted action of RNAseP and RNaseZ/ELAC2 endonucleases, respectively. Variants in the
[...] Read more.
Transcription of mitochondrial DNA generates long polycistronic precursors whose nucleolytic cleavage yields the individual mtDNA-encoded transcripts. In most cases, this cleavage occurs at the 5′- and 3′-ends of tRNA sequences by the concerted action of RNAseP and RNaseZ/ELAC2 endonucleases, respectively. Variants in the
ELAC2
gene have been predominantly linked to severe to mild cardiomyopathy that, in its milder forms, is accompanied by variably severe neurological presentations. Here, we report five patients from three unrelated families. Four of the patients presented mild to moderate cardiomyopathy and one died at 1 year of age, one patient had no evidence of cardiomyopathy. The patients had variable neurological presentations that included intellectual disability, ataxia, refractory epilepsy, neuropathy and deafness. All patients carried previously unreported missense and nonsense variants. Enzymatic analyses showed multiple OXPHOS deficiencies in biopsies from two patients, whereas immunoblot analyses revealed a decreased abundance of ELAC2 in fibroblasts from three patients. Northern blot analysis revealed an accumulation of unprocessed mt-tRNA
Val
-precursor consistent with the role of ELAC2 in transcript processing. Our study expands the genetic spectrum of
ELAC2
-linked disease and suggests that cardiomyopathy is not an invariably present clinical hallmark of this pathology.
Full article
►

▼

Show Figures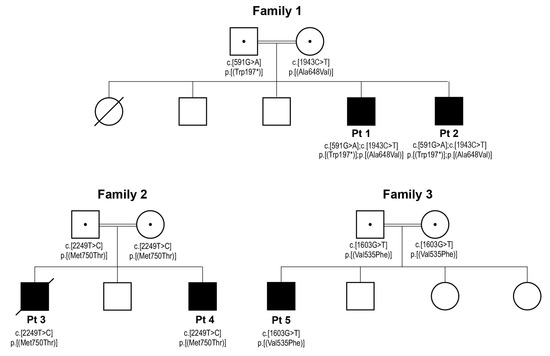 Figure 1