Micro-Current Stimulation Can Modulate the Adipogenesis Process by Regulating the Insulin Signaling Pathway in 3T3-L1 Cells and ob/ob Mice
Life 2023, 13(2), 404; https://doi.org/10.3390/life13020404 (registering DOI) - 01 Feb 2023
Abstract
Obesity is a disease in which fat is abnormally or excessively accumulated in the body, and many studies have been conducted to overcome it with various techniques. In this study, we evaluated whether micro-current stimulation (MCS) can be applied to prevent obesity by
[...] Read more.
Obesity is a disease in which fat is abnormally or excessively accumulated in the body, and many studies have been conducted to overcome it with various techniques. In this study, we evaluated whether micro-current stimulation (MCS) can be applied to prevent obesity by regulating the adipogenesis through 3T3-L1 cells and
ob
/
ob
mice. To specify the intensity of MCS, Oil Red O staining was conducted with various intensities of MCS. Based on these, subsequent experiments used 200 and 400 μA for the intensity of MCS. The expressions of insulin signaling pathway-related proteins, including phosphorylation of IGF-1 and IR, were decreased in all MCS groups, and in turn, downstream signals such as Akt and ERK were decreased. In addition, MCS reduced the nucleus translocation of PPAR-γ and decreased the protein expression of C/EBP-α. In the
ob
/
ob
mouse model, MCS reduced body weight gain and abdominal adipose tissue volume. In particular, the concentration of triglycerides in serum was also decreased. Taken together, our findings showed that MCS inhibited lipid accumulation by regulating insulin signaling in 3T3-L1, and it was effective at reducing body weight and adipose tissue volume in
ob
/
ob
mice. These suggest that MCS may be a useful treatment approach for obesity.
Full article
►

▼

Show Figures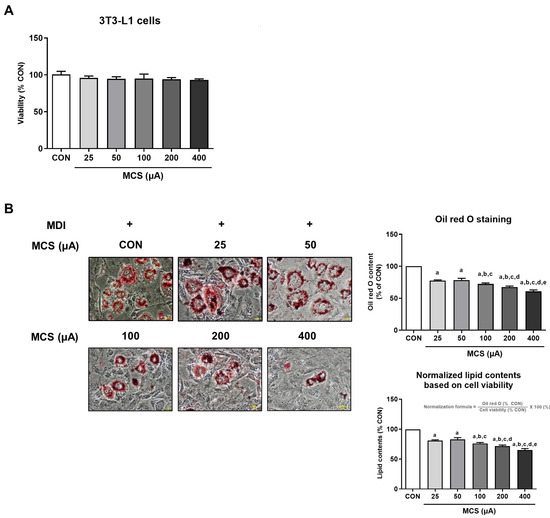 Figure 1