Tumor-Infiltrating Lymphoid Cells in Colorectal Cancer Patients with Varying Disease Stages and Microsatellite Instability-High/Stable Tumors
Vaccines 2021, 9(1), 64; https://doi.org/10.3390/vaccines9010064 (registering DOI) - 19 Jan 2021
Abstract
Immune checkpoint inhibition is an effective anti-cancer therapeutic approach but has shown limited efficacy in treating colorectal cancer (CRC) patients. Importantly, immune constituents of the tumor microenvironment (TME) can influence therapy response and cancer progression. We investigated the expression of immune checkpoints (ICs)
[...] Read more.
Immune checkpoint inhibition is an effective anti-cancer therapeutic approach but has shown limited efficacy in treating colorectal cancer (CRC) patients. Importantly, immune constituents of the tumor microenvironment (TME) can influence therapy response and cancer progression. We investigated the expression of immune checkpoints (ICs) on lymphoid populations within the CRC TME and compared with cells from normal colon tissues using samples from 50 patients with varying disease stages. We found that the levels of B cells, T cells, and NK cells were similar, IC-expressing CD4
+
and CD4
+
CD8
+
double positive T cells were higher, while CD8
+
T cells and CD4
−
CD8
−
double negative T cells were significantly lower in CRC tumors. Notably, patients with mismatch-repair deficiency/microsatellite instability-high tumors had higher levels of IC-expressing CD4
+
and CD8
+
T cells than patients with proficient MMR and microsatellite stable tumors. Lastly, The Cancer Genome Atlas Colon Adenocarcinoma datasets showed associations between low expression of selective genes and poorer progression-free interval. Our findings highlight differential expression of ICs on lymphoid cells in CRC tumors in the era of cancer immunotherapy, which at present is solely approved for anti-PD-1 therapy in patients with dMMR/MSI-H tumors. Further investigations into their functionality have potentials for deciphering resistance mechanisms to IC inhibition.
Full article
►

▼

Show Figures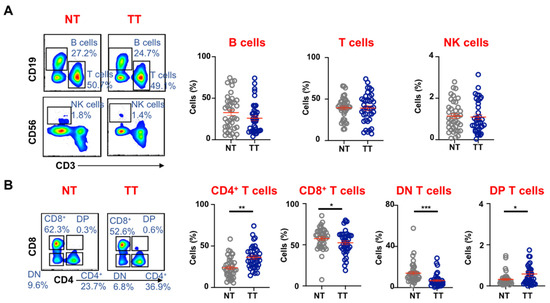 Figure 1