HIV-Exposed Seronegative Sex Workers Express Low T-Cell Activation and an Intact Ectocervical Tissue Microenvironment
Vaccines 2021, 9(3), 217; https://doi.org/10.3390/vaccines9030217 (registering DOI) - 04 Mar 2021
Abstract
Immunological correlates of natural resistance to HIV have been identified in HIV-exposed seronegative (HESN) individuals and include a low-inflammatory genital mucosal status. The cervicovaginal epithelium has not been studied for such correlates despite constituting an important barrier against sexual HIV transmission. To fill
[...] Read more.
Immunological correlates of natural resistance to HIV have been identified in HIV-exposed seronegative (HESN) individuals and include a low-inflammatory genital mucosal status. The cervicovaginal epithelium has not been studied for such correlates despite constituting an important barrier against sexual HIV transmission. To fill this gap in knowledge, we collected samples of blood, cervical mononuclear cells, cervicovaginal lavage, and ectocervical tissue from Kenyan HESN sex workers (n = 29) and controls (n = 33). The samples were analyzed by flow cytometry, protein profiling, 16S rRNA gene sequencing, in situ image analysis, and tissue-based RNA sequencing. A significantly higher relative proportion of regulatory T cells in blood (B7
+
CD25
hi
FoxP3
+
CD127
lo
CD4
+
and B7
+
Helios
+
FoxP3
+
CD4
+
), and a significantly lower proportion of activated cervical T cells (CCR5
+
CD69
+
CD4
+
and CCR5
+
CD69
+
CD8
+
), were found in the HESN group compared with the controls. In contrast, there were no statistically significant differences between the study groups in cervicovaginal protein and microbiome compositions, ectocervical epithelial thickness, E-cadherin expression, HIV receptor expression, and tissue RNA transcriptional profiles. The identification of an intact ectocervical microenvironment in HESN individuals add new data to current knowledge about natural resistance to sexual transmission of HIV.
Full article
►

▼

Show Figures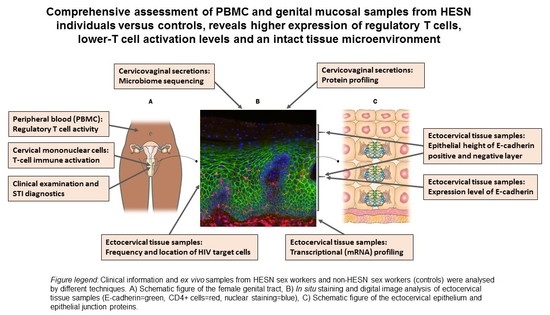 Graphical abstract