Copper–Cerium–Tin Oxide Catalysts for Preferential Oxidation of CO in Hydrogen: Effects of Synthesis Method and Copper Content
Catalysts 2022, 12(12), 1575; https://doi.org/10.3390/catal12121575 (registering DOI) - 03 Dec 2022
Abstract
Copper was incorporated into the Ce-Sn and comparative Ce-Zr oxide supports by one-pot precipitation in the presence of CTAB template and by the impregnation of templated Ce-Sn and Ce-Zr oxides. The synthesized Cu-Ce-Sn and Cu-Ce-Zr catalysts were tested in the continuous-flow preferential oxidation
[...] Read more.
Copper was incorporated into the Ce-Sn and comparative Ce-Zr oxide supports by one-pot precipitation in the presence of CTAB template and by the impregnation of templated Ce-Sn and Ce-Zr oxides. The synthesized Cu-Ce-Sn and Cu-Ce-Zr catalysts were tested in the continuous-flow preferential oxidation of CO in hydrogen excess. The one-pot synthesized tin- and zirconium-doped catalysts demonstrated better CO conversion and CO
2
selectivity than their impregnated counterparts. For the tin-modified ternary system that showed the best catalytic performance, the copper content was further optimized. The structure, reducibility, surface chemical state and textural properties of the catalysts were analyzed by SEM-EDX, XRD, H
2
-TPR, Raman spectroscopy, XPS and TEM. The nonmonotonic changes in the specific surface area, Cu
+
/Cu
2+
ratio and ratio of lattice and non-lattice oxygen with increasing the Cu content are discussed in terms of copper distribution in the catalysts. The influence of the interaction between copper oxide species and the cerium–tin/cerium–zirconium oxide support on the performance of the ternary catalysts was thoroughly analyzed and discussed.
Full article
►

▼

Show Figures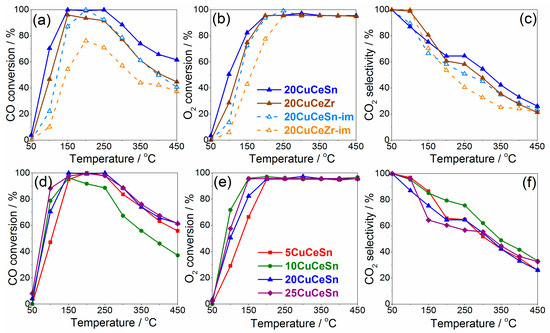 Figure 1