Hydrogen Production via Methanol Steam Reforming over CuO/ZnO/Al2O3 Catalysts Prepared via Oxalate-Precursor Synthesis
Catalysts 2023, 13(10), 1335; https://doi.org/10.3390/catal13101335 (registering DOI) - 30 Sep 2023
Abstract
CuO/ZnO/Al
2
O
3
catalysts are commonly used for the methanol steam reforming reaction. The oxalate precursor of CuO/ZnO/Al
2
O
3
catalysts were prepared via the co-precipitation method using oxalic acid as the precipitator, deionized water and ethanol as the solvent, and
[...] Read more.
CuO/ZnO/Al
2
O
3
catalysts are commonly used for the methanol steam reforming reaction. The oxalate precursor of CuO/ZnO/Al
2
O
3
catalysts were prepared via the co-precipitation method using oxalic acid as the precipitator, deionized water and ethanol as the solvent, and microwave radiation and water baths as aging heating methods, respectively. This suggests that ethanol selects the crystalline phase composition of oxalate precursors and limits their growth. Microwave irradiation prompted the isomorphous substitution between Cu
2+
of CuC
2
O
4
and Zn
2+
of ZnC
2
O
4
in the mother liquid; Zn
2+
in ZnC
2
O
4
·xH
2
O was substituted with Cu
2+
in CuC
2
O
4
, forming the master phase (Cu,Zn)C
2
O
4
in the precursor. Moreover, the solid solution Cu-O-Zn formed after calcination, which exhibited nano-fibriform morphology. It has the characteristics of small CuO grains, a large surface area, and strong synergistic effects between CuO and ZnO, which is conducive to improving the catalytic performance of methanol steam reforming. The conversion rate of methanol reached 91.2%, the space time yield of H
2
reached 516.7 mL·g
−1
·h
−1
, and the selectivity of CO was only 0.29%.
Full article
►

▼

Show Figures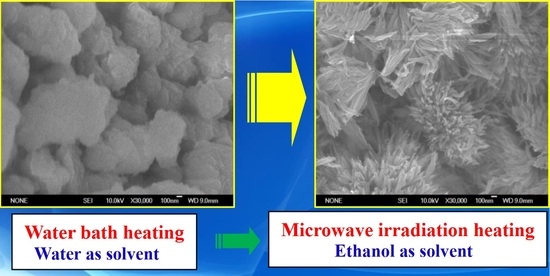 Graphical abstract