Comparisons of the Effect of Different Metal Oxide Nanoparticles on the Root and Shoot Growth under Shaking and Non-Shaking Incubation, Different Plants and Binary Mixture Conditions
Nanomaterials 2021, 11(7), 1653; https://doi.org/10.3390/nano11071653 (registering DOI) - 23 Jun 2021
Abstract
We evaluated the toxicity of five metal oxide nanoparticles (NPs) in single or binary mixtures based on root and shoot growth of two plant species under non-shaking and shaking conditions. The effects of NPs on root and shoot growth differed depending on the
[...] Read more.
We evaluated the toxicity of five metal oxide nanoparticles (NPs) in single or binary mixtures based on root and shoot growth of two plant species under non-shaking and shaking conditions. The effects of NPs on root and shoot growth differed depending on the NP type, incubation condition, and plant type. The half maximal effective concentration (EC
50
) of NPs based on root growth were significantly lower, by 2.6–9.8 times, under shaking than non-shaking conditions (
p
= 0.0138). The magnitude of the effects of NPs followed the order CuO > ZnO > NiO >> Al
2
O
3
, TiO
2
. In addition,
Lactuca sativa
L. was more sensitive to the tested NPs than
Raphanus sativus
L., with an EC
50
0.2–0.7 times lower (
p
= 0.0267). The observed effects of 12 combinations of binary NP mixtures were slightly, albeit non-significantly, lower than expected, indicative of an additive effect of the individual NPs in the mixtures. The results emphasize the importance of careful plant model selection, appropriate application of incubation conditions, and consideration of chemical mixtures rather than single compounds when evaluating the effects of metal oxide NPs.
Full article
►

▼

Show Figures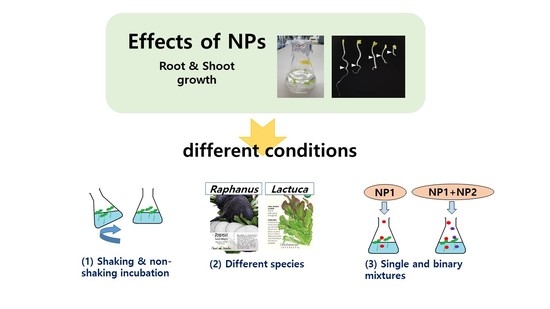 Graphical abstract