Functional Nanoparticles with Magnetic 3D Covalent Organic Framework for the Specific Recognition and Separation of Bovine Serum Albumin
Nanomaterials 2022, 12(3), 411; https://doi.org/10.3390/nano12030411 (registering DOI) - 26 Jan 2022
Abstract
Glutathione functionalized magnetic 3D covalent organic frameworks combined with molecularly imprinted polymer (magnetic 3D COF–GSH MIPs) were developed for the selective recognition and separation of bovine serum albumin (BSA). Ultrasonication was used to prepare magnetic 3D COFs with high porosity (~1 nm) and
[...] Read more.
Glutathione functionalized magnetic 3D covalent organic frameworks combined with molecularly imprinted polymer (magnetic 3D COF–GSH MIPs) were developed for the selective recognition and separation of bovine serum albumin (BSA). Ultrasonication was used to prepare magnetic 3D COFs with high porosity (~1 nm) and a large surface area (373 m
2
g
−1
). The magnetic 3D COF–GSH MIP nanoparticles had an imprinting factor of 4.79, absorption capacity of 429 mg g
−1
, magnetic susceptibility of 32 emu g
-
1
, and five adsorption–desorption cycles of stability. The proposed method has the advantages of a shorter equilibrium absorption time (1.5 h), higher magnetic susceptibility (32 emu g
-1
), and larger imprinting factor (4.79) compared with those reported from other studies. The magnetic 3D COF–GSH MIPs used with BSA had selectivity factors of 3.68, 2.76, and 3.30 for lysozyme, ovalbumin, and cytochrome C, respectively. The successful recognition and separation of BSA in a real sample analysis verified the capability of the magnetic 3D COF–GSH MIP nanoparticles.
Full article
►

▼

Show Figures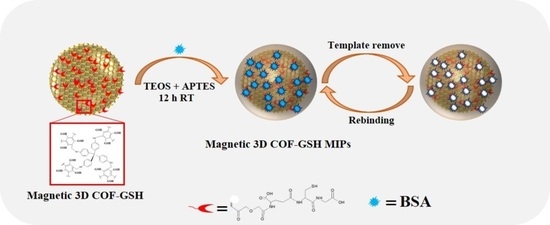 Graphical abstract