mTOR-Dependent Autophagy Regulates Slit Diaphragm Density in Podocyte-like Drosophila Nephrocytes
Abstract
Both mTOR signaling and autophagy are important modulators of podocyte homeostasis, regeneration, and aging and have been implicated in glomerular diseases. However, the mechanistic role of these pathways for the glomerular filtration barrier remains poorly understood. We used
Drosophila
nephrocytes as an established
[...] Read more.
Both mTOR signaling and autophagy are important modulators of podocyte homeostasis, regeneration, and aging and have been implicated in glomerular diseases. However, the mechanistic role of these pathways for the glomerular filtration barrier remains poorly understood. We used
Drosophila
nephrocytes as an established podocyte model and found that inhibition of mTOR signaling resulted in increased spacing between slit diaphragms. Gain-of-function of mTOR signaling did not affect spacing, suggesting that additional cues limit the maximal slit diaphragm density. Interestingly, both activation and inhibition of mTOR signaling led to decreased nephrocyte function, indicating that a fine balance of signaling activity is needed for proper function. Furthermore, mTOR positively controlled cell size, survival, and the extent of the subcortical actin network. We also showed that basal autophagy in nephrocytes is required for survival and limits the expression of the
sns
(nephrin) but does not directly affect slit diaphragm formation or endocytic activity. However, using a genetic rescue approach, we demonstrated that excessive, mTOR-dependent autophagy is primarily responsible for slit diaphragm misspacing. In conclusion, we established this invertebrate podocyte model for mechanistic studies on the role of mTOR signaling and autophagy, and we discovered a direct mTOR/autophagy-dependent regulation of the slit diaphragm architecture.
Full article
►

▼

Show Figures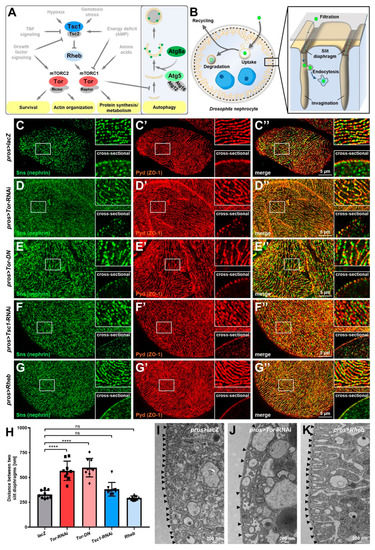 Figure 1