Effect of Posidonia oceanica Fibers Addition on the Thermal and Acoustic Properties of Cement Paste
Buildings 2022, 12(7), 909; https://doi.org/10.3390/buildings12070909 (registering DOI) - 27 Jun 2022
Abstract
The present work focused on the experimental study of the mechanical, thermal and acoustic properties of cement composite reinforced using
Posidonia oceanica
(PO) fibers. For this purpose, parallelepipedic specimens of dimensions 270 mm × 270 mm × 40 mm and cubic specimens of
[...] Read more.
The present work focused on the experimental study of the mechanical, thermal and acoustic properties of cement composite reinforced using
Posidonia oceanica
(PO) fibers. For this purpose, parallelepipedic specimens of dimensions 270 mm × 270 mm × 40 mm and cubic specimens of dimensions 150 mm × 150 mm × 150 mm were prepared with a water-to-cement ratio of 0.50 by varying the volume of fibers (V
f
) from 0% to 20%. Properties such as compressive strength, thermal conductivity, thermal diffusivity, standardized level difference and sound transmission class were examined. The compressive strength of the specimens was determined using the rebound hammer test, while the thermal measurements were performed with the steady-state box method. The results showed that the addition of PO fibers improved the compressive strength of the mixtures and produced a maximum value of 33.60 MPa for a 10% volume of fiber content. Thermal conductivity and thermal diffusivity decreased significantly with the addition of fibers for all the mixtures. The experimental investigation also showed that the sound transmission class of PO-fiber-reinforced cementitious composites decreased as the fiber volume increased due to an increase in air voids in the mixtures.
Full article
►

▼

Show Figures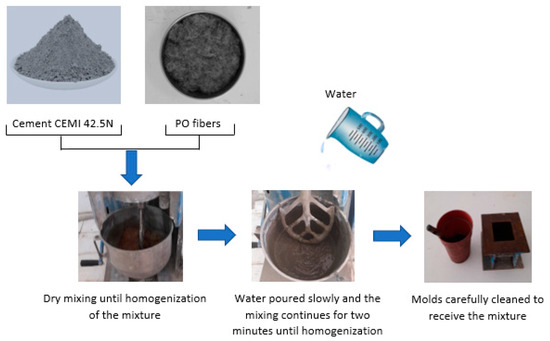 Figure 1