Atomic Layer Deposition of Ultra-Thin Crystalline Electron Channels for Heterointerface Polarization at Two-Dimensional Metal-Semiconductor Heterojunctions
Coatings 2023, 13(6), 1041; https://doi.org/10.3390/coatings13061041 (registering DOI) - 03 Jun 2023
Abstract
Atomic layer deposition (ALD) has emerged as a promising technology for the development of the next generation of low-power semiconductor electronics. The wafer-scaled growth of two-dimensional (2D) crystalline nanostructures is a fundamental step toward the development of advanced nanofabrication technologies. Ga
2
O
[...] Read more.
Atomic layer deposition (ALD) has emerged as a promising technology for the development of the next generation of low-power semiconductor electronics. The wafer-scaled growth of two-dimensional (2D) crystalline nanostructures is a fundamental step toward the development of advanced nanofabrication technologies. Ga
2
O
3
is an ultra-wide bandgap metal oxide semiconductor for application in electronic devices. The polymorphous Ga
2
O
3
with its unique electronic characteristics and doping capabilities is a functional option for heterointerface engineering at metal-semiconductor 2D heterojunctions for application in nanofabrication technology. Plasma-enhanced atomic layer deposition (PE-ALD) enabled the deposition of ultra-thin nanostructures at low-growth temperatures. The present study used the PE-ALD process for the deposition of atomically thin crystalline ß-Ga
2
O
3
films for heterointerface engineering at 2D metal-semiconductor heterojunctions. Via the control of plasma gas composition and ALD temperature, the wafer-scaled deposition of ~5.0 nm thick crystalline ß-Ga
2
O
3
at Au/Ga
2
O
3
-TiO
2
heterointerfaces was achieved. Material characterization techniques showed the effects of plasma composition and ALD temperature on the properties and structure of Ga
2
O
3
films. The following study on the electronic characteristics of Au/Ga
2
O
3
-TiO
2
2D heterojunctions confirmed the tunability of this metal/semiconductor polarized junction, which works as functional electron channel layer developed based on tunable
p-n
junctions at 2D metal/semiconductor interfaces.
Full article
►

▼

Show Figures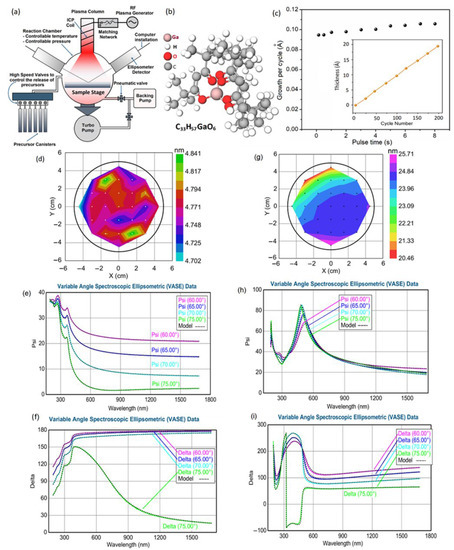 Figure 1