Antioxidants in Animal Nutrition: UHPLC-ESI-QqTOF Analysis and Effects on In Vitro Rumen Fermentation of Oak Leaf Extracts
Antioxidants 2022, 11(12), 2366; https://doi.org/10.3390/antiox11122366 (registering DOI) - 29 Nov 2022
Abstract
The genus
Quercus
supplies a large amount of residual material (e.g., bark, acorns, leaves, wood), the valorization of which can favor a supply of antioxidant polyphenols to be used in the pharmaceutical, nutraceutical, or cosmeceutical sector. The recovery of specialized metabolites could also
[...] Read more.
The genus
Quercus
supplies a large amount of residual material (e.g., bark, acorns, leaves, wood), the valorization of which can favor a supply of antioxidant polyphenols to be used in the pharmaceutical, nutraceutical, or cosmeceutical sector. The recovery of specialized metabolites could also benefit livestock feeding, so much so that polyphenols have gained attention as rumen fermentation modifiers and for mitigating the oxidative imbalance to which farm animals are subject. In this context, leaves of
Quercus robur
L. from Northern Germany were of interest and the alcoholic extract obtained underwent an untargeted profiling by means of ultra-high-performance liquid chromatography/high-resolution tandem mass spectrometry (UHPLC-HRMS/MS) techniques. As triterpenes and fatty acids occurred, the alcoholic extract fractionation pointed out the obtainment of a polyphenol fraction, broadly constituted by coumaroyl flavonol glycosides and condensed tannins. Total phenol, flavonoid and condensed tannins content assays, as well as antiradical (DPPH
●
and ABTS
+●
) and reducing activity (PFRAP) were carried out on the alcoholic extract and its fractions. When the effects on rumen liquor was evaluated in vitro in terms of changes in fermentation characteristics, it was observed that oak leaf extract and its fractions promoted an increase in total volatile fatty acids and differently modulated the relative content of each fatty acid.
Full article
►

▼

Show Figures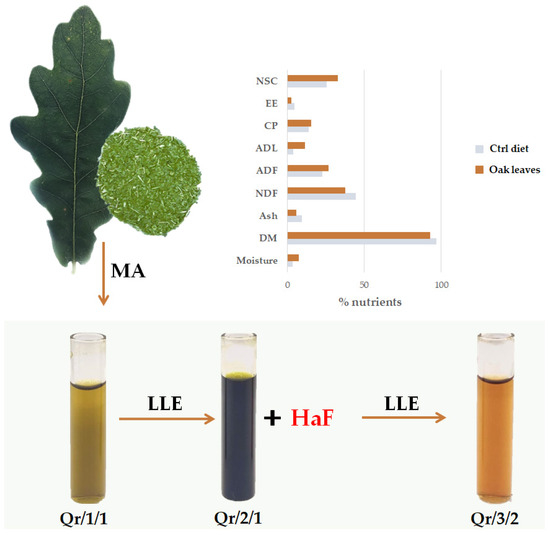 Figure 1