Salivary Adiponectin and Albumin Levels on the Gingival Conditions of Patients Undergoing Bariatric Surgery: A Cohort Study
Int. J. Environ. Res. Public Health 2023, 20(7), 5261; https://doi.org/10.3390/ijerph20075261 (registering DOI) - 24 Mar 2023
Abstract
This study analyzed the salivary proteomics, adiponectin and albumin, related to weight loss and periodontitis in patients undergoing bariatric surgery. This study included fourteen patients with morbid obesity (body mass index, BMI > 40 kg/m
2
) who underwent bariatric surgery Roux-en-Y gastric
[...] Read more.
This study analyzed the salivary proteomics, adiponectin and albumin, related to weight loss and periodontitis in patients undergoing bariatric surgery. This study included fourteen patients with morbid obesity (body mass index, BMI > 40 kg/m
2
) who underwent bariatric surgery Roux-en-Y gastric bypass (RYGB) in System Health Public in Brazil. Data on demographic and anthropometric measures were extracted from medical records preoperatively and 6 and 12 months post-surgery. The variables assessed were: probing pocket depth (PPD), clinical attachment loss (CAL), bleeding on probing (BOP), and stimulated whole-mouth saliva. In this study, saliva samples were analyzed by electrophoresis and immunoblotting. The ELISA kit was used to measure the MMP8 levels to determine potential markers for obesity. Adiponectin and albumin levels were also evaluated. Weight loss was associated with significant changes in patients' periodontal clinical data. Although 7 out of 10 periodontal patients showed an increase in salivary adiponectin levels after root planning treatment, when analyzed by Western blotting, the increase was not statistically significant (21.1 ± 4.8 to 26.3 ± 9.4 arbitrary units,
p
> 0.99). There was no correlation between albumin levels and salivary adiponectin pre-surgery, nor 6 months or 12 months after surgery. Weight loss was not improved by low-grade inflammation in bariatric patients, since albumin levels were similar between periods. Periodontitis is an inflammatory disease that is modulated by several factors, among which adiponectin plays an important role for the treatment of periodontal disease.
Full article
►

▼

Show Figures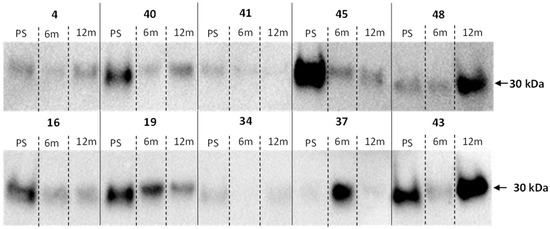 Figure 1