Headache as an Adverse Reaction to the Use of Medication in the Elderly: A Pharmacovigilance Study
Int. J. Environ. Res. Public Health 2021, 18(5), 2674; https://doi.org/10.3390/ijerph18052674 (registering DOI) - 07 Mar 2021
Abstract
There is a consensus that elderly individuals are quite vulnerable to adverse drug reactions (ADRs), and headaches are one of the most frequent clinical presentations of central nervous system problems in the general population, which can be an ADR. The purpose of our
[...] Read more.
There is a consensus that elderly individuals are quite vulnerable to adverse drug reactions (ADRs), and headaches are one of the most frequent clinical presentations of central nervous system problems in the general population, which can be an ADR. The purpose of our work was to analyze reports of "headache" associated ADRs in the elderly sent to the Portuguese Pharmacovigilance System (PPS), and also which drugs were more frequently associated with this adverse reaction. A retrospective analysis of suspected ADR reports involving patients aged 65 years or older received by the PPS in the last 10 years was conducted. A search of all the terms associated with the High Level Term "headache" was performed. All duplicate reports were excluded from the analysis. A total of 155 ADRs reports were included, in which 15 reported isolated "headache" as suspected ADR, while the remaining 140 ADRs reports reported "headache" together with several other adverse reactions. Most reports of "headache" ADR occurred in women (74.8%;
n
= 116). About half (46.5%;
n
= 72) of the ADR reports were considered serious. Anti-viral medication, anti-depressants, anti-dyslipidemic agents and central nervous system-acting analgesics were the most frequent drugs associated with "headache" ADR reports in this population. In elderly patients, most ADR reports involving headaches occurred in women and a high percentage (46.5%) were considered serious. Thus, it is important that healthcare professionals pay more attention to headaches reported as ADRs in the elderly and drugs suspected to cause them, in order to increase knowledge about this type of reaction and contribute towards safely using drugs in this age group.
Full article
►

▼

Show Figures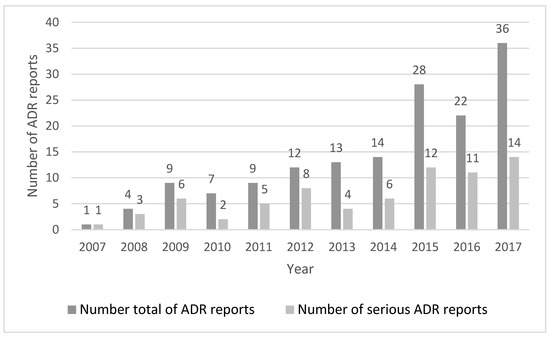 Figure 1