Pullulan/Poly(Vinyl Alcohol) Hydrogels Loaded with Calendula officinalis Extract: Design and In Vitro Evaluation for Wound Healing Applications
Pharmaceutics 2023, 15(6), 1674; https://doi.org/10.3390/pharmaceutics15061674 (registering DOI) - 07 Jun 2023
Abstract
The therapeutic efficiency of plant extracts has been limited by their poor pharmaceutical availability. Hydrogels have promising potential to be applied as wound dressings due to their high capacity to absorb exudates and their enhanced performance in loading and releasing plant extracts. In
[...] Read more.
The therapeutic efficiency of plant extracts has been limited by their poor pharmaceutical availability. Hydrogels have promising potential to be applied as wound dressings due to their high capacity to absorb exudates and their enhanced performance in loading and releasing plant extracts. In this work, pullulan/poly (vinyl alcohol) (P/PVA) hydrogels were first prepared using an eco-friendly method based on both a covalent and physical cross-linking approach. Then, the hydrogels were loaded with the hydroalcoholic extract of
Calendula officinalis
by a simple post-loading immersion method. Different loading capacities were investigated in terms of the physico-chemical properties, chemical composition, mechanical properties, and water absorption. The hydrogels exhibited high loading efficiency due to the hydrogen bonding interactions between polymer and extract. The water retention capacity as well as the mechanical properties decreased with the increase in the extract amount in hydrogel. However, higher amounts of extract in the hydrogel improved the bioadhesiveness. The release of extract from hydrogels was controlled by the Fickian diffusion mechanism. Extract-loaded hydrogels expressed high antioxidant activity, reaching 70% DPPH radical scavenging after 15 min immersion in buffer solution at pH 5.5. Additionally, loaded hydrogels showed a high antibacterial activity against Gram-positive and Gram-negative bacteria and were non-cytotoxic against HDFa cells.
Full article
►

▼

Show Figures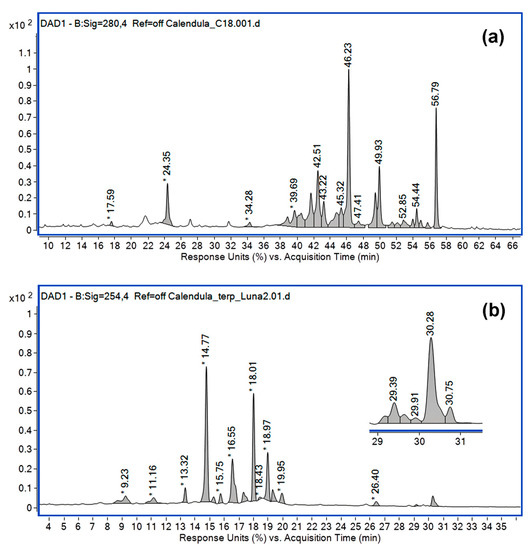 Figure 1