Chemical Diversity and Biological Activities of Essential Oils from Licaria, Nectrandra and Ocotea Species (Lauraceae) with Occurrence in Brazilian Biomes
Biomolecules 2020, 10(6), 869; https://doi.org/10.3390/biom10060869 (registering DOI) - 05 Jun 2020
Abstract
Lauraceae species are known as excellent essential oil (EO) producers, and their taxa are distributed throughout the territory of Brazil. This study presents a systematic review of chemical composition, seasonal studies, occurrence of chemical profiles, and biological activities to EOs of species of
[...] Read more.
Lauraceae species are known as excellent essential oil (EO) producers, and their taxa are distributed throughout the territory of Brazil. This study presents a systematic review of chemical composition, seasonal studies, occurrence of chemical profiles, and biological activities to EOs of species of
Licaria
,
Nectandra
, and
Ocotea
genera collected in different Brazilian biomes. Based on our survey, 39 species were studied, with a total of 86 oils extracted from seeds, leaves, stem barks, and twigs. The most representative geographic area in specimens was the Atlantic Forest (14 spp., 30 samples) followed by the Amazon (13 spp., 30 samples), Cerrado (6 spp., 14 samples), Pampa (4 spp., 10 samples), and Caatinga (2 spp., 2 samples) forests. The majority of compound classes identified in the oils were sesquiterpene hydrocarbons and oxygenated sesquiterpenoids. Among them, β-caryophyllene, germacrene D, bicyclogermacrene, caryophyllene oxide, α-bisabolol, and bicyclogermacrenal were the main constituents. Additionally, large amounts of phenylpropanoids and monoterpenes such as safrole, 6-methoxyelemicin, apiole, limonene, α-pinene, β-pinene, 1,8-cineole, and camphor were reported.
Nectandra megatopomica
showed considerable variation with the occurrence of fourteen chemical profiles according to seasonality and collection site. Several biological activities have been attributed to these oils, especially cytotoxic, antibacterial, antioxidant and antifungal potential, among other pharmacological applications.
Full article
►

▼

Show Figures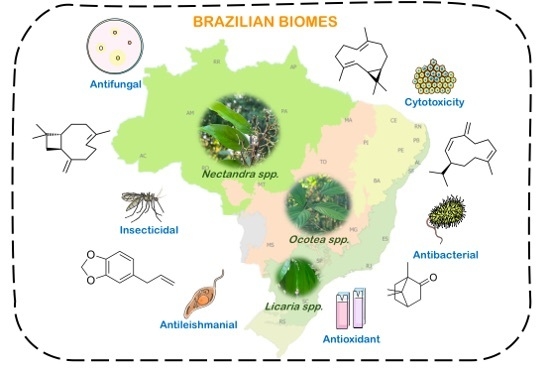 Graphical abstract