Biofilm-Producing Ability of Staphylococcus aureus Obtained from Surfaces and Milk of Mastitic Cows
Abstract
This study was conducted to evaluate the incidence of mastitis in 153 dairy cows and to evaluate the kinetics of adhesion of isolates obtained from surfaces and milk in comparison with the reference strain (RS), CCM 4223. The surfaces of the floor, teat
[...] Read more.
This study was conducted to evaluate the incidence of mastitis in 153 dairy cows and to evaluate the kinetics of adhesion of isolates obtained from surfaces and milk in comparison with the reference strain (RS), CCM 4223. The surfaces of the floor, teat cup, and cow restraints were aseptically swabbed in three replicates (n = 27). Of the total number of infected cows (n = 43), 11 samples were found to be positive for
Staphylococcus aureus
, 12 samples tested positive for non-aureus staphylococci, 6 samples tested positive for
Streptococcus
spp., and 11 samples tested positive for other bacteria (
Escherichia coli, Pseudomonas
spp.) or a mixed infection. The most represented pathogen in milk (11/43) and on surfaces (14/27) was
S. aureus.
The kinetics of adhesion of the reference strain and isolates of
S. aureus
on stainless steel surfaces were determined after 3, 6, 9, 12, 24, and 48 h, and 3, 6, 9, 12, and 15 days of incubation. All strains reached counts higher than 5 Log
10
CFU/cm
2
needed for biofilm formation, except RS (4.40 Log
10
CFU/cm
2
). The isolates of
S. aureus
revealed a higher capability to form biofilm in comparison with RS during the first 3 h (
p
< 0.001). Thus, there is a significant difference between the occurrence of
S. aureus
on monitored surfaces—floor, teat cup, and cow restraints—and the frequency with which mastitis is caused by
S. aureus
(
p
< 0.05). This finding raises the possibility that if various surfaces are contaminated by
S. aureus
, it can result in the formation of biofilm, which is a significant virulence factor.
Full article
►

▼

Show Figures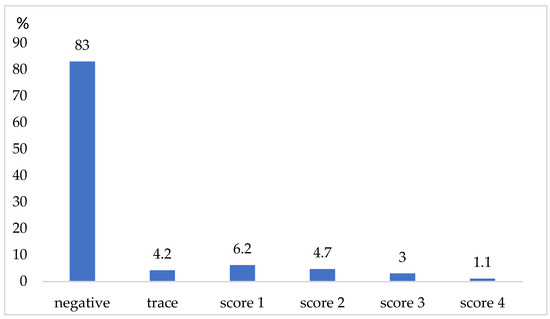 Figure 1