Prevalence of Antibiotic-Resistant E. coli Strains in a Local Farm and Packing Facilities of Honeydew Melon in Hermosillo, Sonora, Mexico
Abstract
Pathogenic strains of
Escherichia coli
threaten public health due to their virulence factors and antibiotic resistance. Additionally, the virulence of this bacterium varies by region depending on environmental conditions, agricultural practices, and the use of antibiotics and disinfectants. However, there is limited research
[...] Read more.
Pathogenic strains of
Escherichia coli
threaten public health due to their virulence factors and antibiotic resistance. Additionally, the virulence of this bacterium varies by region depending on environmental conditions, agricultural practices, and the use of antibiotics and disinfectants. However, there is limited research on the prevalence of antibiotic-resistant
E. coli
in agriculture. Therefore, this research aimed to determine the antibiotic resistance of
E. coli
isolated from the Honeydew melon production system in Hermosillo, Sonora, Mexico. Thirty-two
E. coli
strains were isolated from 445 samples obtained from irrigation water, harvested melons, the hands of packaging workers, boxes, and discarded melons. The resistance profile of the
E. coli
strains was carried out to 12 antibiotics used in antimicrobial therapeutics against this bacterium; a high level of resistance to ertapenem (100%) was detected, followed by meropenem (97%), and ampicillin (94%); 47% of the strains were classified as multidrug-resistant. It was possible to identify the prevalence of the extended-spectrum β-lactamase (ESBLs) gene
blaTEM
(15.6%), as well as the non-ESBL genes
qepA
(3.1%) and
aac(6′)lb-cr
(3.1%). The
E. coli
strains isolated from irrigation water were significantly associated with resistance to aztreonam, cefuroxime, amikacin, and sulfamethoxazole/trimethoprim. Irrigation water, packing workers' hands, and discarded melons showed a higher prevalence of antibiotic-resistant, ESBL, and non-ESBL genes of
E. coli
strains in a farm and packing facility of Honeydew melon in Hermosillo, Sonora.
Full article
►

▼

Show Figures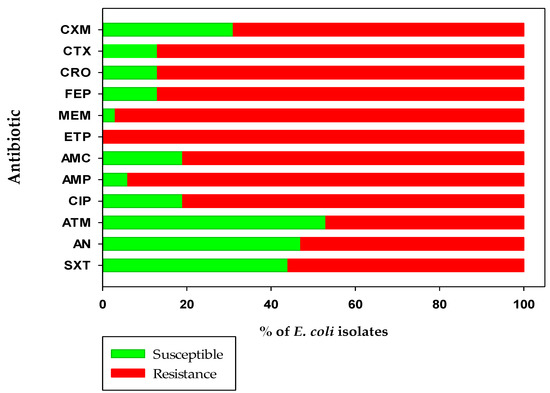 Figure 1