In Vitro Assessment of the Combination of Antibiotics against Some Integron-Harbouring Enterobacteriaceae from Environmental Sources
Antibiotics 2022, 11(8), 1090; https://doi.org/10.3390/antibiotics11081090 (registering DOI) - 11 Aug 2022
Abstract
One strategy for combating antimicrobial resistance in many infections is to combine antibacterial compounds to create combinations that outperform each molecule alone. In this study, we examine and study the inhibitory effect of combining two drugs belonging to different antibiotic classes to obtain
[...] Read more.
One strategy for combating antimicrobial resistance in many infections is to combine antibacterial compounds to create combinations that outperform each molecule alone. In this study, we examine and study the inhibitory effect of combining two drugs belonging to different antibiotic classes to obtain a possible potentiating effect against some Enterobacteriaceae isolates harbouring integrons recovered from rivers and effluents of hospital and wastewater treatment plants in Eastern Cape Province, South Africa. These integrons could easily enable the isolates to acquire genes that confer additional resistance against conventional antibiotics. The minimum inhibitory concentration of the various antibiotics was determined using the broth microdilution, while the checkerboard method was used to determine the fractional inhibitory concentration indices (FICIs). A total of 26.3% (10/38) of the interactions were categorised as synergistic, while 73.7% (28/38) were indifferent. None of the combinations were antagonistic. The time–kill assays revealed all the synergistic interactions as bactericidal. Therefore, the combinations of gentamicin with tetracycline, ciprofloxacin, and ceftazidime against multidrug-resistant (MDR)
Klebsiella pneumoniae
, tetracycline–ceftazidime combination against MDR
Escherichia coli
, colistin combinations with ceftazidime and gentamicin, and tetracycline–gentamicin combinations against MDR
Citrobacter freundii
may be future therapeutic alternatives. Hence, the synergistic combinations reported in this study must be assessed further in vivo before their clinical applications.
Full article
►

▼

Show Figures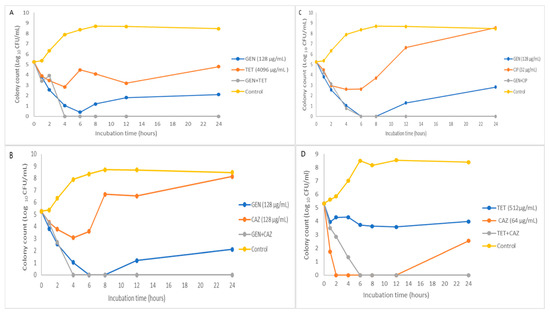 Figure 1