Manufacture of a Potential Antifungal Ingredient Using Lactic Acid Bacteria from Dry-Cured Sausages
Foods 2023, 12(7), 1427; https://doi.org/10.3390/foods12071427 (registering DOI) - 27 Mar 2023
Abstract
The growing interest in functional foods has fueled the hunt for novel lactic acid bacteria (LAB) found in natural sources such as fermented foods. Thus, the aims of this study were to isolate, identify, characterize, and quantify LAB's antifungal activity and formulate an
[...] Read more.
The growing interest in functional foods has fueled the hunt for novel lactic acid bacteria (LAB) found in natural sources such as fermented foods. Thus, the aims of this study were to isolate, identify, characterize, and quantify LAB's antifungal activity and formulate an ingredient for meat product applications. The overlay method performed a logical initial screening by assessing isolated bacteria's antifungal activity in vitro. Next, the antifungal activity of the fermented bacteria-free supernatants (BFS) was evaluated by agar diffusion assay against six toxigenic fungi. Subsequently, the antifungal activity of the most antifungal BFS was quantified using the microdilution method in 96-well microplates. The meat broth that showed higher antifungal activity was selected to elaborate on an ingredient to be applied to meat products. Finally, antifungal compounds such as organic acids, phenolic acids, and volatile organic compounds were identified in the chosen-fermented meat broth. The most promising biological candidates belonged to the
Lactiplantibacillus plantarum
and
Pediococcus pentosaceus
.
P. pentosaceus
C15 distinguished from other bacteria by the production of antifungal compounds such as nonanoic acid and phenyl ethyl alcohol, as well as the higher production of lactic and acetic acid.
Full article
►

▼

Show Figures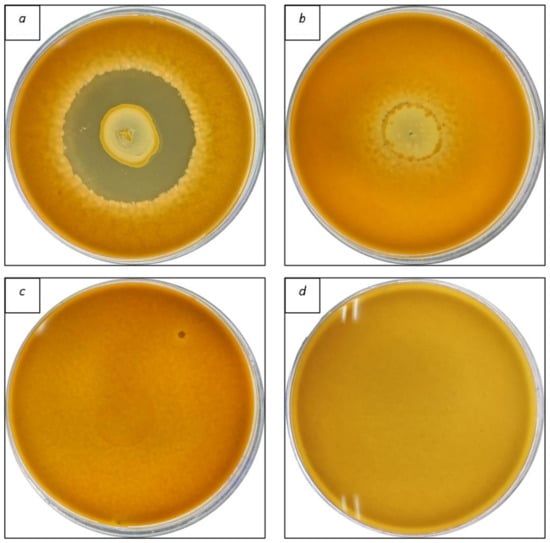 Figure 1