Novel Thermostable Heparinase Based on the Genome of Bacteroides Isolated from Human Gut Microbiota
Foods 2022, 11(10), 1462; https://doi.org/10.3390/foods11101462 (registering DOI) - 18 May 2022
Abstract
Among the nutrients available to the human gut microbiota, the complex carbohydrates and glycosaminoglycans are important sources of carbon for some of the species of human gut microbiota. Glycosaminoglycan (heparin) from the host is a highly preferred carbohydrate for
Bacteroides
. To explore
[...] Read more.
Among the nutrients available to the human gut microbiota, the complex carbohydrates and glycosaminoglycans are important sources of carbon for some of the species of human gut microbiota. Glycosaminoglycan (heparin) from the host is a highly preferred carbohydrate for
Bacteroides
. To explore how gut microbiota can effectively use heparin as a carbon source for growth, we conducted a screening of the Carbohydrate-Active enzymes (CAZymes) database for lytic enzymes of the PL13 family and Research Center of Food Biotechnology at School of Food Science and Technology of Jiangnan University database of
Bacteroides
to identify novel glycosaminoglycan-degrading bacterial strains. Four
Bacteroides
species (
Bacteroides eggerthii
,
Bacteroides clarus
,
Bacteroides nordii
, and
Bacteroides finegoldii
) that degraded heparin were selected for further studies. Analysis of the polysaccharide utilization sites of the four strains revealed that all of them harbored enzyme encoding genes of the PL13 family. Functional analysis revealed the activity of CAZymes in a medium containing heparin as the sole carbon source, suggesting their potential to degrade heparin and support growth. The four enzymes were heterologous expressed, and their enzymatic properties, kinetics, and thermal stability were determined. The lytic enzyme of
B. nordii
had high enzymatic activity and thermal stability. The features that cause this high thermal stability were elucidated based on an examination of the three-dimensional structure of the protein. Our findings provide an important theoretical basis for the application of glycosaminoglycans and glycosaminoglycan-degrading enzymes in the medical and biotechnology industries, and an important scientific basis for precision nutrition and medical intervention studies using gut microbiota or enzymes as targets.
Full article
►

▼

Show Figures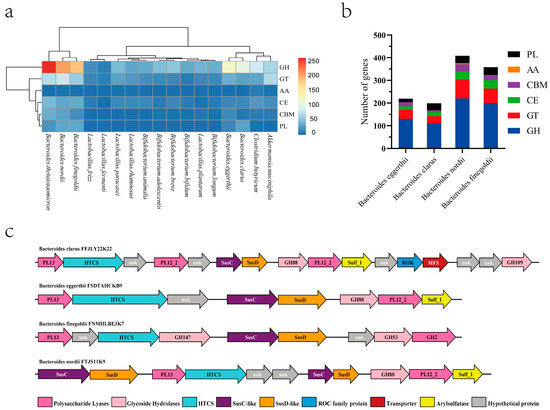 Figure 1