Evaluation of the Toxicity of Satureja intermedia C. A. Mey Essential Oil to Storage and Greenhouse Insect Pests and a Predator Ladybird
Foods 2020, 9(6), 712; https://doi.org/10.3390/foods9060712 (registering DOI) - 02 Jun 2020
Abstract
The use of chemical insecticides has had several side-effects, such as environmental contamination, foodborne residues, and human health threats. The utilization of plant-derived essential oils as efficient bio-rational agents has been acknowledged in pest management strategies. In the present study, the fumigant toxicity
[...] Read more.
The use of chemical insecticides has had several side-effects, such as environmental contamination, foodborne residues, and human health threats. The utilization of plant-derived essential oils as efficient bio-rational agents has been acknowledged in pest management strategies. In the present study, the fumigant toxicity of essential oil isolated from
Satureja intermedia
was assessed against cosmopolitan stored-product insect pests:
Trogoderma granarium
Everts (khapra beetle),
Rhyzopertha dominica
(Fabricius) (lesser grain borer),
Tribolium castaneum
(Herbst) (red flour beetle), and
Oryzaephilus surinamensis
(L.) (saw-toothed grain beetle). The essential oil had significant fumigant toxicity against tested insects, which positively depended on essential oil concentrations and the exposure times. Comparative contact toxicity of
S. intermedia
essential oil was measured against
Aphis nerii
Boyer de Fonscolombe (oleander aphid) and its predator
Coccinella septempunctata
L. (seven-spot ladybird). Adult females of
A. nerii
were more susceptible to the contact toxicity than the
C. septempunctata
adults. The dominant compounds in the essential oil of
S. intermedia
were thymol (48.1%), carvacrol (11.8%),
p
-cymene (8.1%), and γ-terpinene (8.1%). The high fumigant toxicity against four major stored-product insect pests, the significant aphidicidal effect on
A. nerii
, and relative safety to the general predator
C. septempunctata
make terpene-rich
S. intermedia
essential oil a potential candidate for use as a plant-based alternative to the detrimental synthetic insecticides.
Full article
►

▼

Show Figures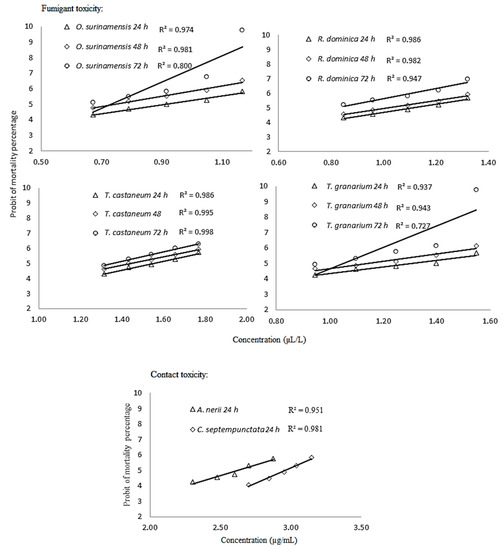 Figure 1