Mn3O4 Catalysts for Advanced Oxidation of Phenolic Contaminants in Aqueous Solutions
Water 2022, 14(13), 2124; https://doi.org/10.3390/w14132124 (registering DOI) - 03 Jul 2022
Abstract
Water-soluble organic pollutants, such as phenolic compounds, have been exposed to environments globally. They have a significant impact on groundwater and surface water quality. In this work, different Mn
3
O
4
catalysts were prepared for metal oxide activation of peroxymonosulfate (PMS) to
[...] Read more.
Water-soluble organic pollutants, such as phenolic compounds, have been exposed to environments globally. They have a significant impact on groundwater and surface water quality. In this work, different Mn
3
O
4
catalysts were prepared for metal oxide activation of peroxymonosulfate (PMS) to remove the phenolic compound from the water environment. The as-prepared catalysts were characterized using thermogravimetric-differential thermal analysis (TG-DTA), powder X-ray diffraction (XRD), scanning electron microscopy (SEM), and Brunauer-Emmett-Teller (BET) surface area analysis. Furthermore, the effect of temperature and reusability of the as-prepared Mn
3
O
4
catalysts is also investigated. The Mn
3
O
4
nanoparticles (NPs) catalyst reveals an excellent performance for activating PMS to remove phenol compounds. Mn
3
O
4
NPs exhibits 96.057% efficiency in removing 25 ppm within 60 min. The kinetic analysis shows that Mn
3
O
4
NPs fitted into pseudo-first order kinetic model and exhibited relatively low energy activation of 42.6 kJ/mol. The reusability test of Mn
3
O
4
NPs displays exceptional stability with 84.29% efficiency after three-sequential cycles. The as-prepared Mn
3
O
4
NPs is proven suitable for phenolic remediation in aqueous solutions.
Full article
►

▼

Show Figures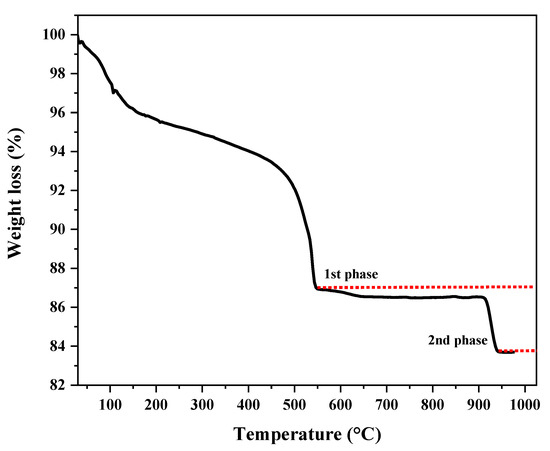 Figure 1