Iboga Inspired N-Indolylethyl-Substituted Isoquinuclidines as a Bioactive Scaffold: Chemoenzymatic Synthesis and Characterization as GDNF Releasers and Antitrypanosoma Agents
Molecules 2022, 27(3), 829; https://doi.org/10.3390/molecules27030829 (registering DOI) - 27 Jan 2022
Abstract
The first stage of the drug discovery process involves the identification of small compounds with biological activity. Iboga alkaloids are monoterpene indole alkaloids (MIAs) containing a fused isoquinuclidine-tetrahydroazepine ring. Both the natural products and the iboga-inspired synthetic analogs have shown a wide variety
[...] Read more.
The first stage of the drug discovery process involves the identification of small compounds with biological activity. Iboga alkaloids are monoterpene indole alkaloids (MIAs) containing a fused isoquinuclidine-tetrahydroazepine ring. Both the natural products and the iboga-inspired synthetic analogs have shown a wide variety of biological activities. Herein, we describe the chemoenzymatic preparation of a small library of novel
N
-indolylethyl-substituted isoquinuclidines as iboga-inspired compounds, using toluene as a starting material and an imine Diels–Alder reaction as the key step in the synthesis. The new iboga series was investigated for its potential to promote the release of glial cell line-derived neurotrophic factor (GDNF) by C6 glioma cells, and to inhibit the growth of infective trypanosomes. GDNF is a neurotrophic factor widely recognized by its crucial role in development, survival, maintenance, and protection of dopaminergic neuronal circuitries affected in several neurological and psychiatric pathologies. Four compounds of the series showed promising activity as GDNF releasers, and a leading structure (compound
11
) was identified for further studies. The same four compounds impaired the growth of bloodstream
Trypanosoma brucei brucei
(EC
50
1–8 μM) and two of them (compounds
6
and
14
) showed a good selectivity index.
Full article
►

▼

Show Figures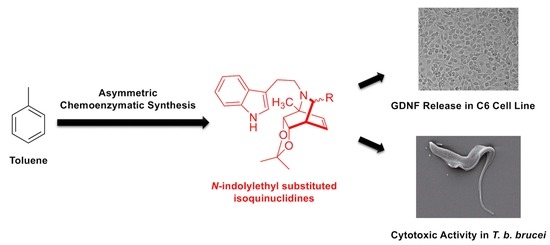 Graphical abstract