A Novel Cell-Based Model for a Rare Disease: The Tks4-KO Human Embryonic Stem Cell Line as a Frank-Ter Haar Syndrome Model System
Viewed by 237
Abstract
Tyrosine kinase substrate with four SH3 domains (Tks4) scaffold protein plays roles in cell migration and podosome formation and regulates systemic mechanisms such as adult bone homeostasis and adipogenesis. Mutations in the Tks4 gene (
SH3PXD2b
) cause a rare developmental disorder called
[...] Read more.
Tyrosine kinase substrate with four SH3 domains (Tks4) scaffold protein plays roles in cell migration and podosome formation and regulates systemic mechanisms such as adult bone homeostasis and adipogenesis. Mutations in the Tks4 gene (
SH3PXD2b
) cause a rare developmental disorder called Frank-Ter Haar syndrome (FTHS), which leads to heart abnormalities, bone tissue defects, and reduced adiposity. We aimed to produce a human stem cell-based in vitro FTHS model system to study the effects of the loss of the Tks4 protein in different cell lineages and the accompanying effects on the cell signalome. To this end, we used CRISPR/Cas9 (clustered, regularly interspaced, short palindromic repeats (CRISPR)/CRISPR associated (Cas9)) to knock out the
SH3PXD2b
gene in the HUES9 human embryonic stem cell line (hESC), and we obtained stable homo- and heterozygous knock out clones for use in studying the potential regulatory roles of Tks4 protein in embryonic stem cell biology. Based on pluripotency marker measurements and spontaneous differentiation capacity assays, we concluded that the newly generated Tks4-KO HUES9 cells retained their embryonic stem cell characteristics. We propose that the Tks4-KO HUES9 cells could serve as a tool for further cell differentiation studies to investigate the involvement of Tks4 in the complex disorder FTHS. Moreover, we successfully differentiated all of the clones into mesenchymal stem cells (MSCs). The derived MSC cultures showed mesenchymal morphology and expressed MSC markers, although the expression levels of mesodermal and osteogenic marker genes were reduced, and several EMT (epithelial mesenchymal transition)-related features were altered in the Tks4-KO MSCs. Our results suggest that the loss of Tks4 leads to FTHS by altering cell lineage differentiation and cell maturation processes, rather than by regulating embryonic stem cell potential.
Full article
►

▼

Show Figures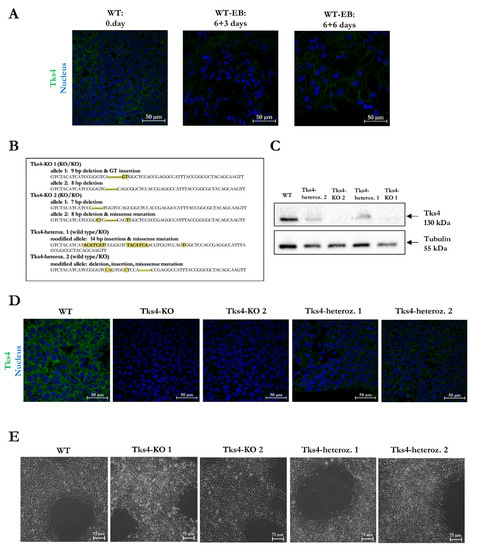 Figure 1