DOT1L Methyltransferase Regulates Calcium Influx in Erythroid Progenitor Cells in Response to Erythropoietin
Viewed by 287
Abstract
Erythropoietin (EPO) signaling plays a vital role in erythropoiesis by regulating proliferation and lineage-specific differentiation of murine hematopoietic progenitor cells (HPCs). An important downstream response of EPO signaling is calcium (Ca
2+
) influx, which is regulated by transient receptor potential channel (TRPC)
[...] Read more.
Erythropoietin (EPO) signaling plays a vital role in erythropoiesis by regulating proliferation and lineage-specific differentiation of murine hematopoietic progenitor cells (HPCs). An important downstream response of EPO signaling is calcium (Ca
2+
) influx, which is regulated by transient receptor potential channel (TRPC) proteins, particularly TRPC2 and TRPC6. While EPO induces Ca
2+
influx through TRPC2, TRPC6 inhibits the function of TRPC2. Thus, interactions between TRPC2 and TRPC6 regulate the rate of Ca
2+
influx in EPO-induced erythropoiesis. In this study, we observed that the expression of TRPC6 in KIT-positive erythroid progenitor cells was regulated by DOT1L. DOT1L is a methyltransferase that plays an important role in many biological processes during embryonic development including early erythropoiesis. We previously reported that
Dot1l
knockout (
Dot1lKO
) HPCs in the yolk sac failed to develop properly, which resulted in lethal anemia. In this study, we detected a marked downregulation of
Trpc6
gene expression in
Dot1lKO
progenitor cells in the yolk sac compared to the wild type (WT). The promoter and the proximal regions of the
Trpc6
gene locus exhibited an enrichment of H3K79 methylation, which is mediated solely by DOT1L. However, the expression of
Trpc2
, the positive regulator of Ca
2+
influx, remained unchanged, resulting in an increased TRPC2/TRPC6 ratio. As the loss of DOT1L decreased TRPC6, which inhibited Ca
2+
influx by TRPC2,
Dot1lKO
HPCs in the yolk sac exhibited accelerated and sustained elevated levels of Ca
2+
influx. Such heightened Ca
2+
levels might have detrimental effects on the growth and proliferation of HPCs in response to EPO.
Full article
►

▼

Show Figures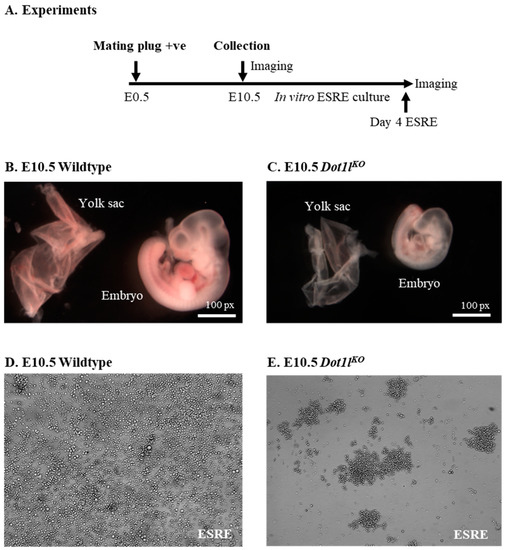 Figure 1