Identification and Functional Characterization of Tyrosine Decarboxylase from Rehmannia glutinosa
Viewed by 590
Abstract
Rehmannia glutinosa
is an important medicinal plant that has long been used in Chinese traditional medicine. Acteoside, one of the bioactive components from
R. glutinosa
, possessed various pharmacological activities for human health; however, the molecular mechanism of acteoside formation is not fully
[...] Read more.
Rehmannia glutinosa
is an important medicinal plant that has long been used in Chinese traditional medicine. Acteoside, one of the bioactive components from
R. glutinosa
, possessed various pharmacological activities for human health; however, the molecular mechanism of acteoside formation is not fully understood. In the current study, a novel tyrosine decarboxylase (designated as RgTyDC2) was identified from the
R. glutinosa
transcriptome. Biochemical analysis of RgTyDC2 showed RgTyDC2 uses tyrosine and dopa as the substrate to produce tyramine and dopamine, respectively, and it displays higher catalytic efficiency toward tyrosine than dopa. Moreover, the transcript level of
RgTyDC2
was consistent with the accumulation pattern of acteoside in
R. glutinosa
, supporting its possible role in the biosynthesis of acteoside in vivo.
Full article
►

▼

Show Figures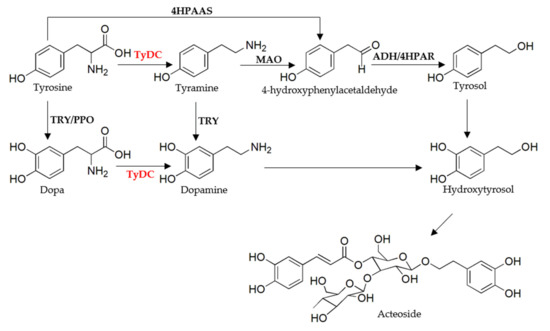 Figure 1