Diversity Analysis and Bioresource Characterization of Halophilic Bacteria Isolated from a South African Saltpan
1
Department of Environmental Sciences, College of Agriculture and Environmental Sciences, UNISA Science Campus, P.O. Box X6, Florida 1710, South Africa
2
Department of Nanotechnology and Water Sustainability, College of Science, Engineering and Technology, UNISA Science Campus, P.O. Box X6, Florida 1710, South Africa
3
College of Agriculture and Environmental Sciences Laboratories, UNISA Science Campus, P.O. Box X6, Florida 1710, South Africa
*
Author to whom correspondence should be addressed.
Academic Editor: Marcello Iriti
Received: 22 March 2017 / Revised: 11 April 2017 / Accepted: 12 April 2017 / Published: 20 April 2017
Abstract
Though intensive research has been channeled towards the biotechnological applications of halophiles and other extremophilic microbes, these studies have not been, by any means, exhaustive. Saline environments still offer a vast diversity of microbes with potential to produce an array of natural products which can only be unlocked by concerted research efforts. In this study, a combination of culture and molecular approaches were employed to characterize halophilic bacteria from saltpan water samples and profile their potential biotechnological applications. Physicochemical analysis of the water samples showed that pH was alkaline (pH 8.8), with a salinity of 12.8%. 16S rRNA gene targeted amplicon analysis produced 10 bacterial phyla constituting of Bacteroidetes (30.57%),
Proteobacteria
(15.27%),
Actinobacteria
(9.05%),
Planctomycetes
(5.52%) and
Cyanobacteria
(3.18%). Eighteen strains were identified using sequencing analysis of the culturable bacterial strains. From these, the strains SP7 and SP9 were positive for cellulase production while the strains SP4, SP8 and SP22 were positive for lipase production. Quantitative enzyme assays showed moderate extracellular cellulase activity (1.95 U/mL) and lipase activity (3.71 U/mL) by the isolate SP9 and SP4 respectively. Further, of the six isolates, the isolate SP9 exhibited exploitable potential in the bioremediation of hydrocarbon pollution as demonstrated by its fairly high activity against benzanthracene (70% DCPIP reduction). Elucidation of the isolates secondary metabolites showed the production of the molecules 2,3-butanediol, hexahydro-3-(2-methylpropyl)pyrrole[1,2
a
]pyrazine-1,4-dione, aziridine, dimethylamine and ethyl acetate (GC-MS) and oxypurinol and 5-hydroxydecanoic acid (LC-MS), particularly by the isolate
Salinivibrio
sp. SP9. Overall, the study showed that the isolated halophiles can produce secondary metabolites with potential industrial and pharmaceutical application.
View Full-Text
►

▼

Figures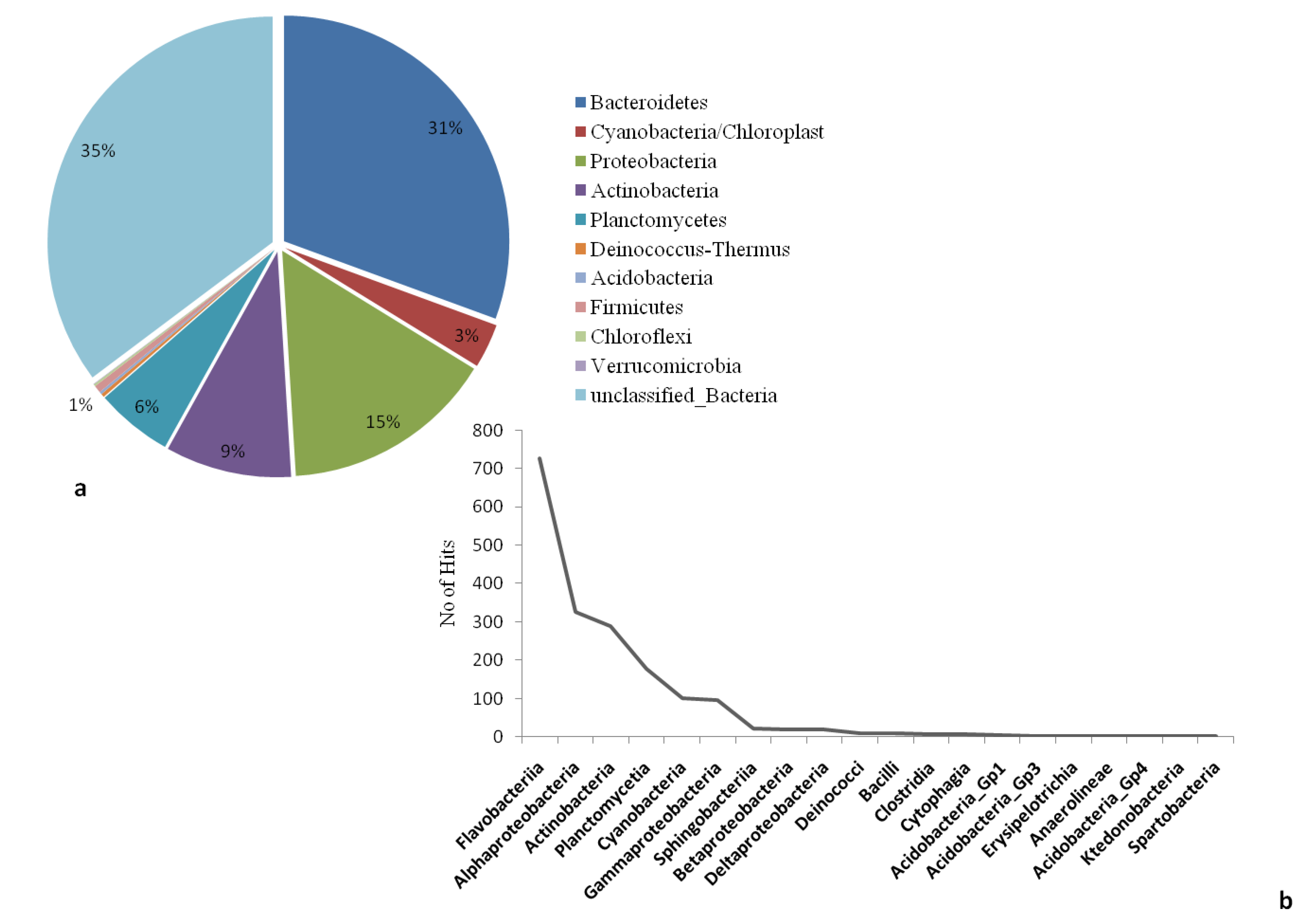 Figure 1
This is an open access article distributed under the
Creative Commons Attribution License
which permits unrestricted use, distribution, and reproduction in any medium, provided the original work is properly cited (CC BY 4.0).

Share & Cite This Article
MDPI and ACS Style
Selvarajan, R.; Sibanda, T.; Tekere, M.; Nyoni, H.; Meddows-Taylor, S. Diversity Analysis and Bioresource Characterization of Halophilic Bacteria Isolated from a South African Saltpan. Molecules 2017, 22, 657.
Note that from the first issue of 2016, MDPI journals use article numbers instead of page numbers. See further details here.
Related Articles
Comments
[Return to top]