Identification and Characterization of Glucosyltransferase That Forms 1-Galloyl-β-

d

-Glucogallin in Canarium album L., a Functional Fruit Rich in Hydrolysable Tannins
Viewed by 214
Abstract
Hydrolysable tannins (HTs) are useful secondary metabolites that are responsible for pharmacological activities and astringent taste, flavor, and quality in fruits. They are also the main polyphenols in
Canarium album
L. (Chinese olive) fruit, an interesting and functional fruit that has been cultivated
[...] Read more.
Hydrolysable tannins (HTs) are useful secondary metabolites that are responsible for pharmacological activities and astringent taste, flavor, and quality in fruits. They are also the main polyphenols in
Canarium album
L. (Chinese olive) fruit, an interesting and functional fruit that has been cultivated for over 2000 years. The HT content of
C. album
fruit was 2.3–13 times higher than that of berries with a higher content of HT. 1-galloyl-
β
-
d
-glucose (
β
G) is the first intermediate and the key metabolite in the HT biosynthesis pathway. It is catalyzed by UDP-glucosyltransferases (UGTs), which are responsible for the glycosylation of gallic acid (GA) to form
β
G. Here, we first reported 140 UGTs in
C. album
. Phylogenetic analysis clustered them into 14 phylogenetic groups (A, B, D–M, P, and Q), which are different from the 14 typical major groups (A~N) of
Arabidopsis thaliana
. Expression pattern and correlation analysis showed that
UGT84A77
(
Isoform0117852
) was highly expressed and had a positive correlation with GA and
β
G content. Prokaryotic expression showed that
UGT84A77
could catalyze GA to form
β
G. These results provide a theoretical basis on
UGTs
in
C. album
, which will be helpful for further functional research and availability on HTs and polyphenols.
Full article
►

▼

Show Figures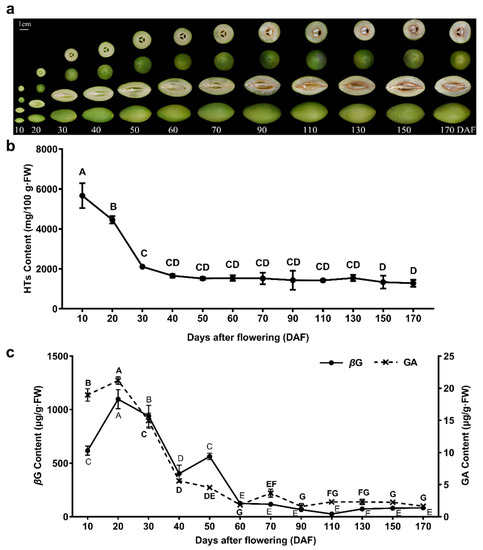 Figure 1