Increased Stress Resistance and Lifespan in Chaenorhabditis elegans Wildtype and Knockout Mutants—Implications for Depression Treatment by Medicinal Herbs
Viewed by 441
Abstract
Depression and anxiety disorders are widespread diseases, and they belong to the leading causes of disability and greatest burdens on healthcare systems worldwide. It is expected that the numbers will dramatically rise during the COVID-19 pandemic. Established medications are not sufficient to adequately
[...] Read more.
Depression and anxiety disorders are widespread diseases, and they belong to the leading causes of disability and greatest burdens on healthcare systems worldwide. It is expected that the numbers will dramatically rise during the COVID-19 pandemic. Established medications are not sufficient to adequately treat depression and are not available for everyone. Plants from traditional medicine may be promising alternatives to treat depressive symptoms. The model organism
Chaenorhabditis elegans
was used to assess the stress reducing effects of methanol/dichlormethane extracts from plants used in traditional medicine. After initial screening for antioxidant activity, nine extracts were selected for in vivo testing in oxidative stress, heat stress, and osmotic stress assays. Additionally, anti-aging properties were evaluated in lifespan assay. The extracts from
Acanthopanax senticosus, Campsis grandiflora, Centella asiatica, Corydalis yanhusuo, Dan Zhi, Houttuynia cordata, Psoralea corylifolia, Valeriana officinalis
, and
Withaniasomnifera
showed antioxidant activity of more than 15 Trolox equivalents per mg extract. The extracts significantly lowered ROS in mutants, increased resistance to heat stress and osmotic stress, and the extended lifespan of the nematodes. The plant extracts tested showed promising results in increasing stress resistance in the nematode model. Further analyses are needed, in order to unravel underlying mechanisms and transfer results to humans.
Full article
►

▼

Show Figures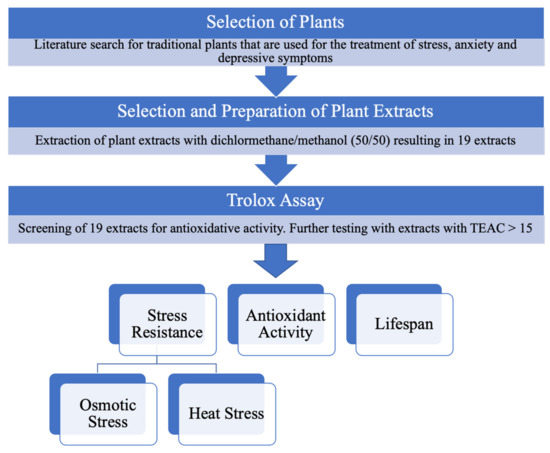 Figure 1