Effects of Dihydrophaseic Acid 3′-
O

-β-

d

-Glucopyranoside Isolated from

Lycii radicis

Cortex on Osteoblast Differentiation

1

Department of Medical Genetics, Ajou University School of Medicine, Suwon 16499, Korea

2

Department of Biomedical Sciences, Ajou University Graduate School of Medicine, Suwon 16499, Korea

3

Bio-Center, Gyeonggi Institute of Science & Technology Promotion, Suwon 16229, Korea

4

Department of Biomedical Laboratory Science, College of Life and Health Sciences, Hoseo University, Asan 31499, Korea

5

Korea Food Research Institute, Seongnam 13539, Korea

6

Dongwoodang Pharmacy Co., Ltd., Yeongchen 38819, Korea

*

Authors to whom correspondence should be addressed.

Academic Editor: Christopher W.K. Lam

Received: 14 August 2016 / Revised: 16 September 2016 / Accepted: 17 September 2016 / Published: 21 September 2016
Abstract
Our previous study showed that ethanol extract of
Lycii
radicis
cortex (LRC) prevented the loss of bone mineral density in ovariectomized mice by promoting the differentiation of osteoblast linage cells. Here, we performed fractionation and isolation of the bioactive compound(s) responsible for the bone formation–enhancing effect of LRC extract. A known sesquiterpene glucoside, (1′
R
,3′
S
,5′
R
,8′
S
,2
Z
,4
E
)-dihydrophaseic acid 3′-
O
-β-
d
-glucopyranoside (abbreviated as DPA3G), was isolated from LRC extract and identified as a candidate constituent. We investigated the effects of DPA3G on osteoblast and osteoclast differentiation, which play fundamental roles in bone formation and bone resorption, respectively, during bone remodeling. The DPA3G fraction treatment in mesenchymal stem cell line C3H10T1/2 and preosteoblast cell line MC3T3-E1 significantly enhanced cell proliferation and alkaline phosphatase activity in both cell lines compared to the untreated control cells. Furthermore, DPA3G significantly increased mineralized nodule formation and the mRNA expression of osteoblastogenesis markers,
Alpl
,
Runx2
, and
Bglap
, in MC3T3-E1 cells. The DPA3G treatment, however, did not influence osteoclast differentiation in primary-cultured monocytes of mouse bone marrow. Because osteoblastic and osteoclastic precursor cells coexist in vivo, we tested the DPA3G effects under the co-culture condition of MC3T3-E1 cells and monocytes. Remarkably, DPA3G enhanced not only osteoblast differentiation of MC3T3-El cells but also osteoclast differentiation of monocytes, indicating that DPA3G plays a role in the maintenance of the normal bone remodeling balance. Our results suggest that DPA3G may be a good candidate for the treatment of osteoporosis.
View Full-Text
►

▼

Figures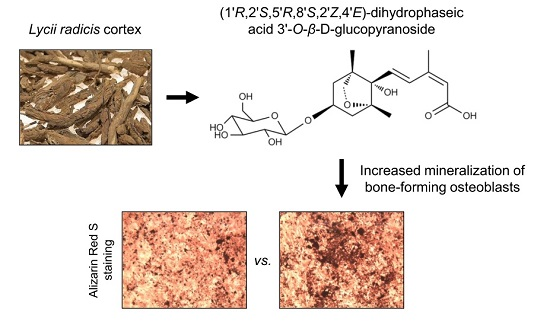 Graphical abstract
This is an open access article distributed under the
Creative Commons Attribution License
which permits unrestricted use, distribution, and reproduction in any medium, provided the original work is properly cited (CC BY 4.0).
Supplementary materials
Supplementary File 1:

PDF-Document (PDF, 443 KB)

Externally hosted supplementary file 1
Link: http://no
Description: Supplementary Figures S1-S4.

Share & Cite This Article
MDPI and ACS Style
Park, E.; Kim, M.-C.; Choi, C.W.; Kim, J.; Jin, H.-S.; Lee, R.; Lee, J.-W.; Park, J.-H.; Huh, D.; Jeong, S.-Y. Effects of Dihydrophaseic Acid 3′-O-β-d-Glucopyranoside Isolated from Lycii radicis Cortex on Osteoblast Differentiation. Molecules 2016, 21, 1260.
Note that from the first issue of 2016, MDPI journals use article numbers instead of page numbers. See further details here.
Related Articles
Comments
[Return to top]