Time- and NADPH-Dependent Inhibition on CYP3A by Gomisin A and the Pharmacokinetic Interactions between Gomisin A and Cyclophosphamide in Rats
1
School of Traditional Chinese Materia, Shenyang Pharmaceutical University, Shenyang 110016, China
2
Department of Pharmacy, Changzheng Hospital, Second Military Medical University, Shanghai 200433, China
3
Key Laboratory of Jiangxi Province for Research on Active Ingredients in Natural Medicines, Bioengineering Research Institute, Yichun University, Yichun 336000, China
*
Authors to whom correspondence should be addressed.
Received: 4 July 2017 / Accepted: 3 August 2017 / Published: 8 August 2017
Abstract
The traditional Chinese medicine
Schisandra chinensis
has remarkable protective effects against chemical-induced toxicity. Cyclophosphamide (CTX), in spite advances in chemotherapy and immunosuppressive regimes, is prone to cause severe toxicity due to its chloroacetaldehyde (CAA) metabolite produced by CYP3A. Our previous study identified that
S. chinensis
extract (SCE) co-administration potently decreased CAA production and attenuated liver, kidney and brain injuries in CTX-treated rats. Gomisin A (Gom A) is proved to be one of the most abundant bioactive lignans in
S. chinensis
with a significant CYP3A inhibitory effect. To find out whether and how Gom A participated in the chemoprevention of SCE against CTX toxicity, the Gom A-caused CYP3A inhibition in vitro as well as the pharmacokinetic interactions between Gom A and CTX in vivo were examined in this study. Using human liver microsomes, a reversible inhibition assay revealed that Gom A was a competitive inhibitor with a
K
I
value of 1.10 µM, and the time- and NADPH-dependent CYP3A inhibition of Gom A was observed in a time-dependent inhibition assay (
K
I
= 0.35 µM,
k
inact
= 1.96 min
−1
). Hepatic CYP3A mRNA expression experienced a significant increase in our rat model with Gom A administration. This explained why CAA production decreased in the 0.5 h- and 6 h-pretreatment rat groups while it increased in the 24 h- and 72 h-pretreatment groups, indicating a bidirectional effect of Gom A on CYP3A-mediated CTX metabolism. The present study suggested that Gom A participates like SCE in the pharmacokinetic intervention of CTX by blocking CYP3A-mediated metabolism and reducing CAA production, and thus plays an important role in the chemopreventive activity of
S. chinensis
against CTX toxicity, in addition to the previously recognized protective effects. Also, the combined use of
S. chinensis
preparation or other drugs containing Gom A as the main component with CTX needed to be addressed for better clinical intervention.
View Full-Text
►

▼

Figures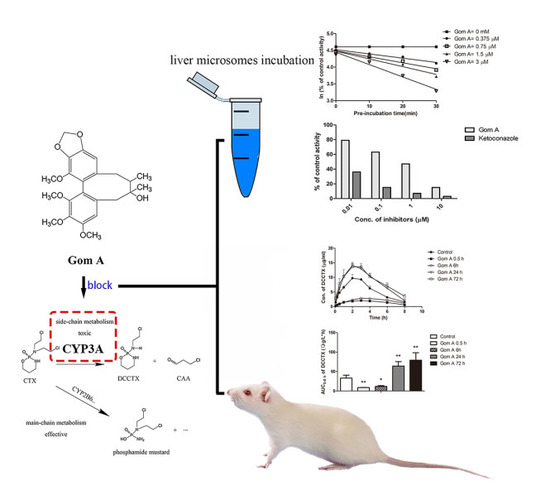 Graphical abstract
This is an open access article distributed under the
Creative Commons Attribution License
which permits unrestricted use, distribution, and reproduction in any medium, provided the original work is properly cited (CC BY 4.0).

Share & Cite This Article
MDPI and ACS Style
Zhai, J.; Zhang, F.; Gao, S.; Chen, L.; Feng, G.; Yin, J.; Chen, W. Time- and NADPH-Dependent Inhibition on CYP3A by Gomisin A and the Pharmacokinetic Interactions between Gomisin A and Cyclophosphamide in Rats. Molecules 2017, 22, 1298.
Note that from the first issue of 2016, MDPI journals use article numbers instead of page numbers. See further details here.
Related Articles
Comments
[Return to top]