Neuroprotective Effects of Radix Scrophulariae on Cerebral Ischemia and Reperfusion Injury via MAPK Pathways
1
Beijing Key Laboratory of Innovative Drug Discovery of Traditional Chinese Medicine (Natural Medicine) and Translational Medicine, Institute of Medicinal Plant Development, Peking Union Medical College and Chinese Academy of Medical Sciences, Beijing 100193, China
2
Key Laboratory of Bioactive Substances and Resource Utilization of Chinese Herbal Medicine, Ministry of Education, Beijing 100193, China
3
Key Laboratory of Efficacy Evaluation of Chinese Medicine against Glycolipid Metabolic Disorders, State Administration of Traditional Chinese Medicine, Beijing 100193, China
4
Zhongguancun Open Laboratory of the Research and Development of Natural Medicine and Health Products, Beijing 100193, China
*
Authors to whom correspondence should be addressed.
†
These authors contributed equally to this paper.
Received: 19 August 2018 / Revised: 12 September 2018 / Accepted: 13 September 2018 / Published: 19 September 2018
Abstract
Ischemic stroke is a clinically common cerebrovascular disease whose main risks include necrosis, apoptosis and cerebral infarction, all caused by cerebral ischemia and reperfusion (I/R). Ischemia and reperfusion-induced injury or apoptosis inhibition in human brain tissue may exert an irreplaceable protective effect on ischemic nerves. This process has particular significance for the treatment of stroke patients. However, the development of neuroprotective drugs remains challenging. Radix Scrophulariae, traditionally considered a valuable medicine, has been discovered to have neuroprotective effects. To explore the neuroprotective effects of an aqueous extract of Radix Scrophulariae (RSAE) on cerebral ischemia/reperfusion and their underlying mechanisms, oxygen-glucose deprivation and reperfusion (OGD/R)-induced PC12 cells were used, and a middle cerebral artery occlusion/reperfusion (MCAO/R) mouse model was established. In vitro results showed that 12.5 μg/mL RSAE markedly improved cell viability; inhibited LDH leakage; increased SOD, GSH-Px and CAT enzyme activity; stabilized the mitochondrial membrane potential; and reduced OGD-induced cell injury and apoptosis. Additionally, in vivo results preliminarily suggested that in MCAO/R model mice, RSAE treatments attenuated infarct volume; reduced brain water content and nitric oxide (NO) and malondialdehyde (MDA) concentrations; inhibited I/R-induced neurological deficits; reduced the levels of lactate dehydrogenase (LDH) leakage release; improved antioxidant capacity by upregulating SOD, GSH-Px and CAT enzyme activity; and reduced neuronal apoptosis, necrosis and loss of neurons. Moreover, it was found that RSAE upregulated the expression of Bcl-2 and downregulated the expression of Bax. In addition, the phosphorylation levels of MAPK signal pathways were elucidated via western blot analysis and immunohistochemical evaluation. In summary, this study investigated the neuroprotective effects and potential mechanisms of RSAE on focal cerebral I/R injury in mice. Radix Scrophulariae has been previously identified as a potential neuroprotective natural plant. Hence, our results may offer insight into discovering new active compounds or drugs for the treatment of ischemic stroke. Many new natural active chemicals in this extract may be discovered by chemical separation and identification and may provide new insights into therapeutic targets in stroke patients.
View Full-Text
►

▼

Figures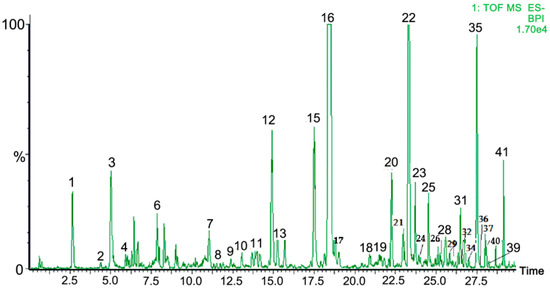 Figure 1
This is an open access article distributed under the
Creative Commons Attribution License
which permits unrestricted use, distribution, and reproduction in any medium, provided the original work is properly cited (CC BY 4.0).

Share & Cite This Article
MDPI and ACS Style
Meng, X.; Xie, W.; Xu, Q.; Liang, T.; Xu, X.; Sun, G.; Sun, X. Neuroprotective Effects of Radix Scrophulariae on Cerebral Ischemia and Reperfusion Injury via MAPK Pathways. Molecules 2018, 23, 2401.
Note that from the first issue of 2016, MDPI journals use article numbers instead of page numbers. See further details here.
Related Articles
Comments
[Return to top]