Effects of Red Ginseng Extract on the Pharmacokinetics and Elimination of Methotrexate via Mrp2 Regulation
1
College of Pharmacy and Research Institute of Pharmaceutical Sciences, Kyungpook National University, Daegu 41566, Korea
2
College of Pharmacy, Dankook University, Cheon-an 31116, Korea
*
Authors to whom correspondence should be addressed.
Academic Editor: Thomas Efferth
Received: 22 October 2018 / Revised: 7 November 2018 / Accepted: 8 November 2018 / Published: 12 November 2018
Abstract
We aimed to investigate the effects of red ginseng extract (RGE) on the expression of efflux transporters and to study the pharmacokinetics of representative substrate. For this, rats received single or repeated administration of RGE (1.5 g/kg/day) for 1 and 2 weeks via oral gavage. mRNA and protein levels of multidrug resistance-associated protein2 (Mrp2), bile salt export pump (Bsep), and P-glycoprotein (P-gp) in the rat liver were measured via real-time polymerase chain reaction and Western blot analysis. Ginsenosides concentrations from the rat plasma were also monitored using a liquid chromatography–tandem mass spectrometry (LC–MS/MS) system. Plasma concentrations of ginsenoside Rb1, Rb2, Rc, and Rd following repeated administration of RGE for 1 and 2 weeks were comparable but significantly higher than those after single administration of RGE. These dosing regimens did not induce significant biochemical abnormalities in the liver, kidneys, and lipid homeostasis. In the RGE repeated oral administration groups, the mRNA and protein levels of Mrp2 significantly decreased. Accordingly, we investigated the changes in the pharmacokinetics of methotrexate, a probe substrate for Mrp2, following intravenous administration of 3 mg/kg methotrexate to rats in the RGE 1-week repeated oral administration group, compared to that in the control group. Biliary excretion, but not urinary excretion, of methotrexate decreased in the RGE repeated administration group, compared to that in the control group. Consequently, the plasma concentrations of methotrexate slightly increased in the RGE repeated administration group. In conclusion, repeated administration of RGE for 1 week resulted in a decrease in Mrp2 expression without inducing significant liver or kidney damage. Pharmacokinetic herb–drug interaction between RGE and methotrexate might occur owing to the decrease in the mRNA and protein levels of Mrp2.
View Full-Text
►

▼

Figures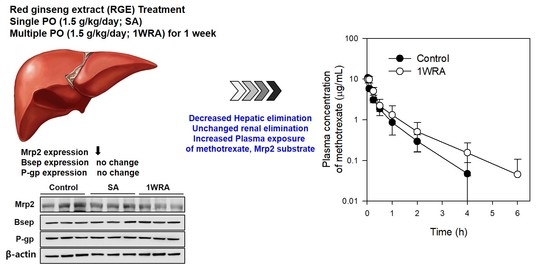 Graphical abstract
This is an open access article distributed under the
Creative Commons Attribution License
which permits unrestricted use, distribution, and reproduction in any medium, provided the original work is properly cited (CC BY 4.0).

Share & Cite This Article
MDPI and ACS Style
Lee, S.; Kwon, M.; Choi, M.-K.; Song, I.-S. Effects of Red Ginseng Extract on the Pharmacokinetics and Elimination of Methotrexate via Mrp2 Regulation. Molecules 2018, 23, 2948.
Note that from the first issue of 2016, MDPI journals use article numbers instead of page numbers. See further details here.
Related Articles
Comments
[Return to top]