Sinomenine Protects Against Morphine Dependence through the NMDAR1/CAMKII/CREB Pathway: A Possible Role of Astrocyte-Derived Exosomes
1
School of Traditional Chinese Medicine, Southern Medical University, 1023-1063 Shatai South Road, Guangzhou 510515, China
2
Department of Biology, Hong Kong Baptist University, Kowloon Tong, Hong Kong, China
3
Central Laboratory, Southern Medical University, 1023-1063 Shatai South Road, Guangzhou 510515, China
*
Authors to whom correspondence should be addressed.
†
These authors contributed equally to this work.
Received: 14 August 2018 / Revised: 7 September 2018 / Accepted: 8 September 2018 / Published: 17 September 2018
Abstract
Sinomenine is a nonaddictive alkaloid used to prevent morphine dependence, even thoughits mechanism isnot fully understood. Astrocytes aggravate the pathological process in their neighboring cellsthrough exosomes in central nervous system diseases. However, the effect of sinomenine on astrocyte-derived exosomes for the amelioration of morphine dependence has not been reported yet. In this study, we found that sinomenine prevented the morphine-induced conditionedplace preference in mice. Sinomenine reduced the levels of cAMP and intracellular Ca
2+
in morphine-treated SH-SY5Y cells. Moreover, sinomenine inhibited the expressions of p-NMDAR1/NMDAR1, p-CAMKII/CAMKII, and p-CREB/CREB in the hippocampusof morphine-dependent mice and SH-SY5Y cells. Furthermore, we found that sinomenine inhibitedthe morphine-induced activation of astrocytesin vivo and in vitro. Afterwards, exosomes were isolated from cultured primary astrocytes treated with phosphate buffer saline (PBS, ctl-exo), morphine (mor-exo), or morphine and sinomenine (Sino-exo). Subsequently, morphine-treated SH-SY5Y cells were treated with ctl-exo, mor-exo, and Sino-exo. Results showed that Sino-exo reduced the level of cAMP, intracellular Ca
2+
, and the expression of p-CAMKII/CAMKII and p-CREB/CREB in morphine-treated SH-SY5Y cells. In conclusion, we demonstrated that sinomenine exhibited protective effects against morphine dependencein vivo and in vitro through theNMDAR1/CAMKII/CREB pathway. Sinomenine-induced alterationof the function of astrocyte-derived exosomes may contribute to the antidependence effects of sinomenine in morphine dependence.
View Full-Text
►

▼

Figures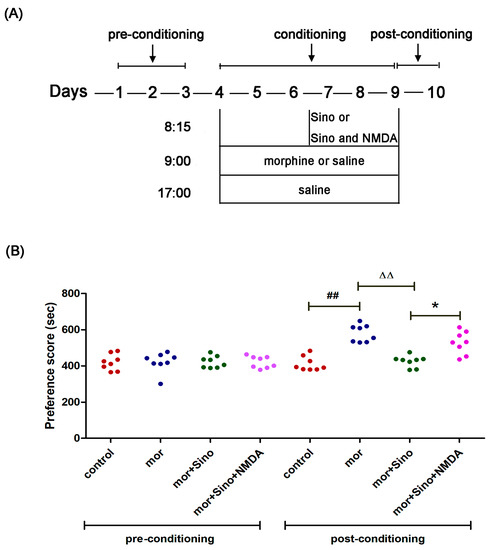 Figure 1
This is an open access article distributed under the
Creative Commons Attribution License
which permits unrestricted use, distribution, and reproduction in any medium, provided the original work is properly cited (CC BY 4.0).

Share & Cite This Article
MDPI and ACS Style
Ou, J.; Zhou, Y.; Li, C.; Chen, Z.; Li, H.; Fang, M.; Zhu, C.; Huo, C.; Yung, K.K.-L.; Li, J.; Luo, C.; Mo, Z. Sinomenine Protects Against Morphine Dependence through the NMDAR1/CAMKII/CREB Pathway: A Possible Role of Astrocyte-Derived Exosomes. Molecules 2018, 23, 2370.
Note that from the first issue of 2016, MDPI journals use article numbers instead of page numbers. See further details here.
Related Articles
Comments
[Return to top]