Comprehensive Quantitative Analysis of 32 Chemical Ingredients of a Chinese Patented Drug Sanhuang Tablet
1
School of Chinese Medicine, Hong Kong Baptist University, Hong Kong, China
2
First Affiliated Hospital, Zhengzhou University, Zhengzhou 450001, China
3
Department of Chemistry, Hong Kong Baptist University, Hong Kong, China
4
State Key Laboratory of Quality Research in Chinese Medicine, Institute of Chinese Medical Sciences, University of Macau, Macao, China
*
Author to whom correspondence should be addressed.
†
These authors contributed equally to this work.
Academic Editors: Christopher W.K. Lam and Derek J. McPhee
Received: 14 November 2016 / Revised: 24 December 2016 / Accepted: 5 January 2017 / Published: 12 January 2017
Abstract
Sanhuang Tablet (SHT) is a Chinese patented drug commonly used for the treatment of inflammations of the respiratory tract, gastrointestinal tract, and skin. It contains a special medicinal composition including the single compound berberine hydrochloride, extracts of Scutellariae Radix and Rhei Radix et Rhizoma, as well as the powder of Rhei Radix et Rhizoma. Despite advances in analytical techniques, quantitative evaluation of a Chinese patented drug like SHT remains a challenge due to the complexity of its chemical profile. In this study, ultra-high performance liquid chromatography coupled with quadrupole-time-of-flight mass spectrometry (UHPLC-Q-TOF-MS) was used to simultaneously quantify 29 non-sugar small molecule components of SHT (11 flavonoids, two isoflavonoids, one flavanone, five anthraquinones, two dianthranones, five alkaloids, two organic acids and one stilbene). Three major saccharide components, namely fructose, glucose, and sucrose, were also quantitatively determined using high performance liquid chromatography-charged aerosol detector (HPLC-CAD) on an Asahipak NH
2
P-50 4E amino column. The established methods were validated in terms of linearity, sensitivity, precision, accuracy, and stability, and then successfully applied to analyze 27 batches of commercial SHT products. A total of up to 57.61% (
w
/
w
) of SHT could be quantified, in which the contents of the determined non-saccharide small molecules varied from 5.91% to 16.83% (
w
/
w
) and three saccharides accounted for 4.41% to 48.05% (
w
/
w
). The results showed that the quality of the commercial products was inconsistent, and only four of those met Chinese Pharmacopoeia criteria.
View Full-Text
►

▼

Figures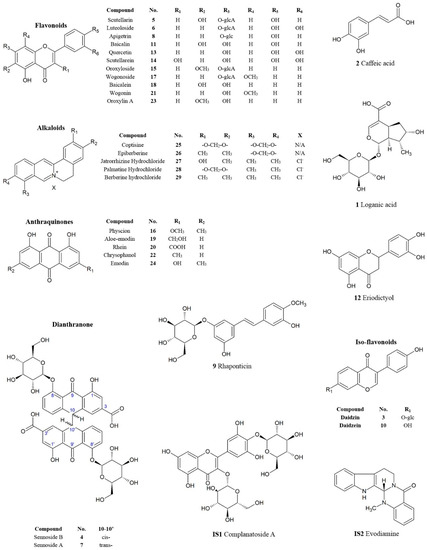 Figure 1
This is an open access article distributed under the
Creative Commons Attribution License
which permits unrestricted use, distribution, and reproduction in any medium, provided the original work is properly cited (CC BY 4.0).

Share & Cite This Article
MDPI and ACS Style
Fung, H.-Y.; Lang, Y.; Ho, H.-M.; Wong, T.-L.; Ma, D.-L.; Leung, C.-H.; Han, Q.-B. Comprehensive Quantitative Analysis of 32 Chemical Ingredients of a Chinese Patented Drug Sanhuang Tablet. Molecules 2017, 22, 111.
Note that from the first issue of 2016, MDPI journals use article numbers instead of page numbers. See further details here.
Related Articles
Comments
[Return to top]