Inhibitory Effects of Ginsenoside Rb1 on Early Atherosclerosis in ApoE-/- Mice via Inhibition of Apoptosis and Enhancing Autophagy
1
Institute of Medicinal Plant Development, Peking Union Medical College and Chinese Academy of Medical Sciences, Beijing 100193, China
2
Beijing Key Laboratory of Innovative Drug Discovery of Traditional Chinese Medicine (Natural Medicine) and Translational Medicine, Beijing 100193, China
3
Key Laboratory of Bioactive Substances and Resource Utilization of Chinese Herbal Medicine, Ministry of Education, Beijing 100193, China
4
Key Laboratory of Efficacy Evaluation of Chinese Medicine against Glycolipid Metabolism Disorder Disease, State Administration of Traditional Chinese Medicine, Beijing 100193, China
*
Authors to whom correspondence should be addressed.
Academic Editor: Thomas Efferth
Received: 19 September 2018 / Revised: 21 October 2018 / Accepted: 24 October 2018 / Published: 8 November 2018
Abstract
Inflammation is a major contributing factor to the progression of atherosclerosis. Ginsenoside Rb1 (Rb1), an active saponin of
Panax notoginseng
, has been found to exert beneficial effects on inflammation and oxidative stress. This study investigated the ability of Rb1 to inhibit the formation of atherosclerotic plaques and the potential mechanisms. In this study, the effects of Rb1 on the development of atherosclerosis were investigated in ApoE-/- deficient mice fed with a western diet. Mice were intragastrically administrated with Rb1 (10 mg/kg) for 8 weeks. This study is that ginsenoside Rb1 exerted an inhibitory effect on early atherosclerosis in ApoE-/- mice via decreasing body weight and food intake daily, upregulating the lipid levels of serum plasma, including those of TC, TG and LDL-C and HDL-C and reducing the atherosclerotic plaque area, suppressing inflammatory cytokines (levels of IL-1β, IL-6 and TNF-α) in the serum of ApoE-/- mice, changing the expression levels of BCL-2, BAX, cleaved caspase-3 and cleaved caspase-9 and weakening apoptosis associated with anti-inflammatory activity. Hence, all these effects against atherosclerosis were tightly associated with regulation of necrosis or apoptosis associated with anti-inflammatory activity. Additionally, the results found that ginsenoside Rb1 increased autophagy flux to inhibit apoptosis via acceleration of autophagy by promoting transformation of LC3 from type I to type II in high-fat diet-induced atherosclerosis in ApoE-/- mice. This finding, along with those of the previous study, provides evidence that Rb1 promotes the process of autophagy to protect against atherosclerosis via regulating BCL-2 family-related apoptosis. These results indicate that Rb1 exhibits therapeutic effects in atherosclerosis by reversing the imbalance between apoptosis and autophagy.
View Full-Text
►

▼

Figures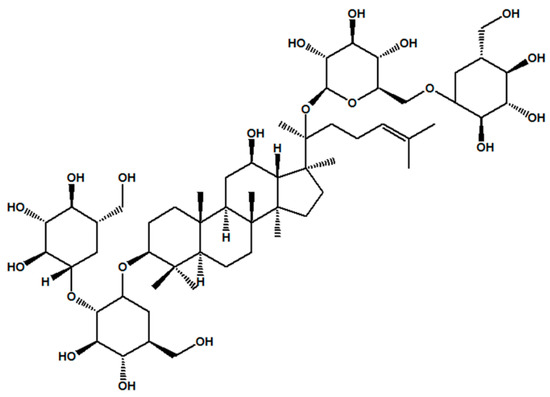 Figure 1
This is an open access article distributed under the
Creative Commons Attribution License
which permits unrestricted use, distribution, and reproduction in any medium, provided the original work is properly cited (CC BY 4.0).

Share & Cite This Article
MDPI and ACS Style
Zhou, P.; Xie, W.; Luo, Y.; Lu, S.; Dai, Z.; Wang, R.; Zhang, X.; Li, G.; Sun, G.; Sun, X. Inhibitory Effects of Ginsenoside Rb1 on Early Atherosclerosis in ApoE-/- Mice via Inhibition of Apoptosis and Enhancing Autophagy. Molecules 2018, 23, 2912.
Note that from the first issue of 2016, MDPI journals use article numbers instead of page numbers. See further details here.
Related Articles
Comments
[Return to top]