Au Single Metal Atom for Carbon Dioxide Reduction Reaction
Abstract
CO
2
is the gas that contributes the most to the greenhouse effect and, therefore, to global warming. One of the greatest challenges facing humanity is the reduction of the concentration of CO
2
in the air. Here, we analyze the possible use
[...] Read more.
CO
2
is the gas that contributes the most to the greenhouse effect and, therefore, to global warming. One of the greatest challenges facing humanity is the reduction of the concentration of CO
2
in the air. Here, we analyze the possible use of Au
1
@g-C
3
N
4
electrocatalyst to transform CO
2
into added-value products. We use density functional theory (DFT) to determine the reaction Gibbs energies for eight electron–proton transfer reaction paths of the electrochemical carbon dioxide reduction reaction (CO2RR) using a single Au atom supported on 2D carbon nitride support. Our simulations classify the Au
1
@g-C
3
N
4
electrocatalysts as "beyond CO" since their formation is energetically favored, although their strong binding with a Au single atom does not allow the desorption process. DFT calculations revealed that the lowest energy pathway is CO
2
(g) → COOH* → CO* → HCO* → HCOH* → CH
2
OH* → CH
2
* → CH
3
* → CH
4
(g), where the first hydrogenation of CO to HCO is predicted as the rate-limiting step of the reaction with slightly lower potential than predicted for Cu electrodes, the most effective catalysts for CO2RR. Methane is predicted to be the main reaction product after eight proton–electron transfers (CO
2
+ 8 H
+
+ 8e
−
→ CH
4
+ 2H
2
O). The generation of formaldehyde is discarded due to the large formation energy of the adsorbed moiety and the production of methanol is slightly less favorable than methane formation. Our computational study helps to identify suitable electrocatalysts for CO2RR by reducing the amount of metal and using stable and low-cost supports.
Full article
►

▼

Show Figures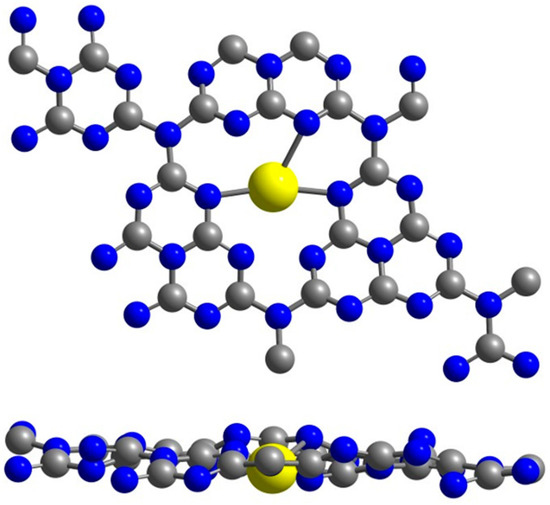 Figure 1