Performance Study on the Effect of Coolant Inlet Conditions for a 20 Ah LiFePO4 Prismatic Battery with Commercial Mini Channel Cold Plates
Abstract
Rechargeable Li-ion batteries are widely used in renewable energy storage and automotive powertrain systems, and therefore, an efficient thermal management system is imperative for maximum battery life and safety. Battery heat generation and dissipation rates primarily depend on the battery surface temperatures, which
[...] Read more.
Rechargeable Li-ion batteries are widely used in renewable energy storage and automotive powertrain systems, and therefore, an efficient thermal management system is imperative for maximum battery life and safety. Battery heat generation and dissipation rates primarily depend on the battery surface temperatures, which are affected by the coolant system design and coolant inlet conditions. In this paper, a two-way coupled electrochemical-thermal simulation with selected experimental validation has been performed and analyzed the effect of water coolant inlet conditions on the effectiveness of commercial mini-channel cold-plates for 20 Ah LiFePO
4
prismatic batteries. Three coolant inlet temperatures (25–45 °C) and four flow rates (150–600 mL/min) are tested at three different discharge rates (2–4 C) and the performance of coolant system design has been analyzed in terms of battery peak (maximum) temperature and temperature difference (i.e., non-uniformity) across the battery. The predicted results indicate that the coolant flow rate has a profound effect on the battery temperature non-uniformity, while the coolant inlet temperature has a significant effect on the battery peak temperature. At high coolant flow rates, the battery surface temperature difference is within the acceptable range (Δ
T
< 5 °C), but the maximum temperatures are high at all discharge rates. Further, at the low coolant inlet temperature of 25 °C and the high coolant flow rate of 600 mL/min, the battery temperature rise at the top and bottom locations during the constant current discharge process is high, indicating that the battery heat generation rate is high at a low coolant inlet temperature.
Full article
►

▼

Show Figures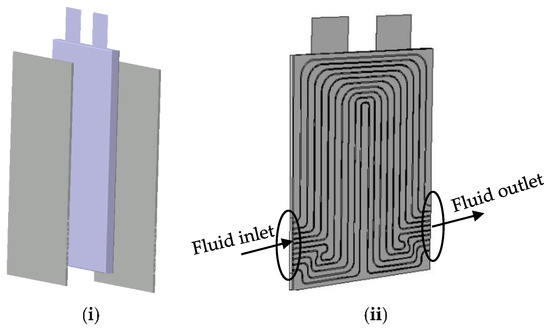 Figure 1