Mycotoxin Co-Occurrence in Michigan Harvested Maize Grain
Cited by 8
| Viewed by 1388
Abstract
Mycotoxins are secondary metabolites produced by fungi that, depending on the type and exposure levels, can be a threat to human and animal health. When multiple mycotoxins occur together, their risk effects on human and animal health can be additive or synergistic. Little
[...] Read more.
Mycotoxins are secondary metabolites produced by fungi that, depending on the type and exposure levels, can be a threat to human and animal health. When multiple mycotoxins occur together, their risk effects on human and animal health can be additive or synergistic. Little information is known about the specific types of mycotoxins or their co-occurrence in the state of Michigan and the Great Lakes region of the United States. To understand the types, incidences, severities, and frequency of co-occurrence of mycotoxins in maize grain (
Zea mays
L.), samples were collected from across Michigan over two years and analyzed for 20 different mycotoxins. Every sample was contaminated with at least four and six mycotoxins in 2017 and 2018, respectively. Incidence and severity of each mycotoxin varied by year and across locations. Correlations were found between mycotoxins, particularly mycotoxins produced by
Fusarium
spp. Environmental differences at each location played a role in which mycotoxins were present and at what levels. Overall, data from this study demonstrated that mycotoxin co-occurrence occurs at high levels in Michigan, especially with mycotoxins produced by
Fusarium
spp., such as deoxynivalenol.
Full article
►

▼

Show Figures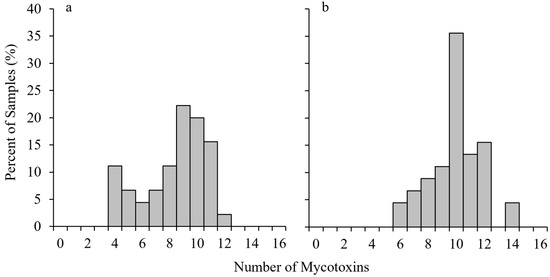 Figure 1